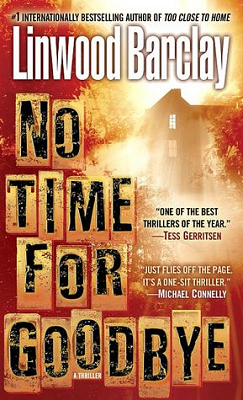 No Time for Goodbye
By: Linwood Barclay
Fourteen-year-old Cynthia Bigge woke one morning to discover that her entire family–mother, father,brother–had vanished. No note, no trace, no return. Ever. Now, twenty-five years later, she'll learn the devastating truth.

Cynthia is happily married with a young daughter, a new family. But the story of her old family isn't over. A strange car in the neighborhood, untraceable phone calls, ominous "gifts"–someone has returned to her hometown to finish what was started twenty-five years ago. And no one's innocence is guaranteed, not even her own. By the time Cynthia discovers her killer's shocking identity, it will again be too late . . . even for goodbye.
I read this book a few weeks ago but never got around to writing a review on it. I was in the mood for a suspence that would keep me reading; I also needed a book to read during my travels in the metro to and from work. This book came with good reviews over at GoodReads so I decided to check it out.
This novel grabs you from the very first page, taking you to the night when Cynthia's family disappers without a trace. It's an eerie notion, where one minute your family's there and the next minute they're gone without even a message to let them know where they are. In a time when there were no mobile phones, no email, no text messaging system (her family disappeared in 1983), it's pretty harrowing.
The rest of the novel is narrated from the point of view of Terry, Cynthia's husband, set in 2008. Telling the story from his perspective was an interesting move because it allowed the reader to observe Cynthia's behaviour from afar and it really adds to the stress of the situation as it develops. Terry is a grounded, supportive man who loves his family and cares about his students; he's also very sensible and reasonable, which not only grounds Cynthia when her anxieties start pushing through but also mellows the situation and puts things into perspective. His point of view is important because he often provides logical explanations to certain developments, explanations that you and I would have came up with in the situation.
As I mentioned, telling the story from his perspective also adds to the stress of the situation as the plot unfolds. As strange things keep cropping up and referring back to Cynthia's family, Cynthia's behaviour spirals downward to a sort of paranoid anxiety that unfortunately affects everyone, especially her husband. You really feel bad for Terry whenever she lashes out against him for not truly understanding what's going on and yet you want to take Terry's side because you understand what Terry's going through as a result. In a way, I realised that maybe this was not the best book to read in the metro to and from work because it can be pretty stressful! You'd rather stay put and read the rest of the novel and find out what really happened.
The plot itself was interesting; as things unfold, you really find yourself wondering what happened to Cynthia's family and who's sending her all of these cryptic messages and stalking her and her family. The more clues you get, the more you find yourself questioning all of the characters involved in the story, even the narrator, however good-natured Terry is (after reading Harlan Coben's Tell No One last year, I realised that nothing isn't what it seemed). I also enjoyed the cast of secondary characters that make an appearance in this novel and how they interconnect with each other. The unveiling of the culprits behind all of these incidents and what really happened to her family was pretty good and satisfying; I didn't expect that to be the case.
Overall, it was an entertaining read. The little soundbites on the book and inside were not exaggerating when they say that you wouldn't want to start reading this late at night (because you'll stay up reading it to the very end) and that it's an "anxiety-inducing thriller" because it's so true. I highly recommend this novel if you're looking for a good mystery or are fans of authors like Harlan Coben.
Rating:
Visit the author's official website || Order this book from the Book Depository



Tags: