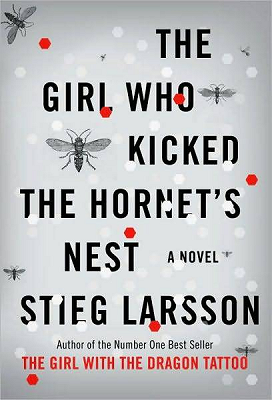 The Girl Who Kicked the Hornet's Nest
By: Stieg Larsson
Lisbeth Salander—the heart of Larsson's two previous novels—lies in critical condition, a bullet wound to her head, in the intensive care unit of a Swedish city hospital. She's fighting for her life in more ways than one: if and when she recovers, she'll be taken back to Stockholm to stand trial for three murders. With the help of her friend, journalist Mikael Blomkvist, she will not only have to prove her innocence, but also identify and denounce those in authority who have allowed the vulnerable, like herself, to suffer abuse and violence. And, on her own, she will plot revenge—against the man who tried to kill her, and the corrupt government institutions that very nearly destroyed her life.

Once upon a time, she was a victim. Now Salander is fighting back.
I got around to reading (at least the first book) the Millenium trilogy by Stieg Larsson last year (you can read my review of The Girl With the Dragon Tattoo in this post). I didn't get around to writing a review of the second book but I recently got around to reading the final installment (after realising that they're never going to be releasing the final volume in the mass bound paperback format). Some spoilers ahead!
No doubt about it, this book was quite a tome to get through. It was clear by the end of The Girl Who Played With Fire that Lisbeth Salander's story was tied in with a larger, murkier issue involving state secrets, corruption and other illicit activities. That strand of the story is heavily explored throughout this novel, hence its length. Sometimes the plot seemed to lag a bit because Larsson spent considerable amount of time with the shadowy figures behind the Zalachenko cover up. It even felt like a derailment from the main storyline at times, which left me feeling a little bored. But the events and attitudes that played out in the story is well in keeping with his previous books about abuse and attitudes against women (especially in the case of Berger's sub-storyline, which was pretty disturbing). Overall, I liked that Lisbeth's storyline/past was more or less resolved and she can live out her life free from those issues (until the next bit of trouble shows up, that is).
Because the story grew in size, the cast of characters involved widened substantially. I admit that it took me a while to remember most of the characcters and what they were gunning for but at the end of the day, the only characters I really cared about where the ones we've followed since the beginning, especially Lisbeth. I was a little disgruntled that, as a result of the expansion of the storyline, that Lisbeth's presence wasn't as prominent as I thought it would be; while it was understandable, given her recovery from a gunshot wound to the head, but it just felt a little weird that her presence wasn't as felt as in the previous novels. Additionally, while the novel overall worked well as a conclusion to Lisbeth's storyline concerning society's treatment of her and the wrongs done against her, I thought it felt rather lacking in terms of character development; not so much in the case of Lisbeth, who in the end was shown to be slowly opening up to people, but in the case of other characters. Blomkvist, while remaining a good friend to Lisbeth, remained status quo concerning his approach towards relationships; sure, he seemed to have found something different and new with Monica Figuerola and he's more or less acknowledged that his relationships don't turn out so long-term, but he doesn't make an effort to changing those circumstances. So in the end, I felt rather lukewarm about Figuerola and Blomkvist's relationship and rather annoyed that Berger suggested that she'd back off "unless" something happens between those two.
I think my strongest issue with this novel is the narrative itself. This didn't bother me in the first novel because the story moved as a considerable pace, but I felt this novel seriously dragged because Larsson described every little detail, leaving almost nothing to the imagination. The size of the novel and the flow of the novel could've been reduced substantially had he not put as much description in there; I especially thought the first half of the epilogue could've been drastically reduced as I didn't care to know every thing Lisbeth did during her time in Gibraltar. I figured this was a result of his background as a journalist, but it started to irk my reading experience of the novel as I moved along.
Overall, I thought it was a reasonable conclusion to the trilogy and Lisbeth's journey through the legal system and her past; I'm glad that she got a measure of payback for all of the horrific things that she experienced. It doesn't erase what's happened to her from her but it does enable her to live out the rest of her life without becoming a victim again from the system and the people who are out to harm her. It could've been a lot shorter though. But as brutal as it is, I appreciate that Larsson does raise a number of social issues that are still prevalent today (it's scary how prevalent they are) that need to be addressed. It's a pity that Larsson didn't live to see how widely popular his books have become.
Rating:
Read Stieg Larsson's profile on Wikipedia || Order this book from the Book Depository



Tags: