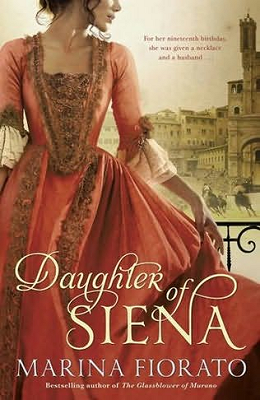 The Daughter of Siena
By: Marina Fiorato
Amid the intrigue and danger of 18th-century Italy, a young woman becomes embroiled in romance and treachery with a rider in the Palio, the breathtaking horse race set in Siena….

It's 1729, and the Palio, a white-knuckle horse race, is soon to be held in the heart of the peerless Tuscan city of Siena. But the beauty and pageantry masks the deadly rivalry that exists among the city's districts. Each ward, represented by an animal symbol, puts forth a rider to claim the winner's banner, but the contest turns citizens into tribes and men into beasts–and beautiful, headstrong, young Pia Tolomei is in love with a rider of an opposing ward, an outsider who threatens the shaky balance of intrigue and influence that rules the land.
This is the second book I've read by Marina Fiorato and I was quite excited to read it; after having read Anne Fortier's Juliet, which was also set in Siena, I wanted to read another book set in the same location. There's just something about Siena that's just incredibly fascinating, especially in comparison to other Tuscan cities. I was only there for a day last December (it was not sunny that day but the fog made the city quite ethereal) so I would love to go back at some point.
I wasn't sure what to expect of the plot when I started reading it; the blurb at the back of the book did not give away anything at all, which is probably a good thing because before I knew it, I was absolutely enthralled by the politics and maneuovering involved in seventeenth century Siena. The political and social structure of Siena is especially fascinating–the city was divided to a number of contrade–so it was interesting to read how they interacted, especially during the Pallio races. Reading about the Pallios was also interesting because it's such a fundamental part of Sienese culture. This novel also provided a bit of background about the way that Siena used to be governed before the arrival of the Medicis (something I need to re-read at some point; I think all of the Tuscan cities used to be governed by councils, but that could be an over-generalisation). The conspiracy is not overly complicated, which is fine because it allows for other characters and themes to shine.
All of the characters populated in this novel where fascinating in their own way, especially Riccardo Bruni and Violante de'Medici. Riccardo was interesting to read because he starts off as a mysterious figure–stoic and hard–but then one act of compassion really opens up another side to the character. Pia Tomolei (intriguing that this character is a Tomolei as Fortier's Juliet also featured the Owl contrada) is also one of the main characters, but I thought that Riccardo and Violante were far more fleshed out as characters than Pia. Pia nonetheless holds my sympathy, especially as there was a point in the novel where I was deeply concerned for her safety and whether she would make it to the end. But I think the most interesting character to me was Violante de'Medici, a woman who governed Siena and who has had many disappointments in her personal life. It was interesting to see how she navigated through this conspiracy and the way she dealt with her enemies and her family members. I thought the twist towards the end of the story was a nice touch, despite alleviating the tragedy for one of the characters.
I think this novel flowed much better than her first novel, The Glassblower of Murano, not only because it solely took place in the seventeenth-century but because the narrative/prose was far tighter and less detached. It's also quite quick-paced so it keeps you completely engrossed in the story and what would happen next.
Overall, this was an enjoyable novel with interesting characters and a plot filled with intrigue and urgency. Siena comes to life through these pages, not only with the setting but also with the culture that dictates its' characters' attitudes and actions. I would highly recommend this novel for historical fiction loves and readers interested in reading a novel set in Italy.
Rating:
Visit the author's official website || Order this book from the Book Depository



Tags: