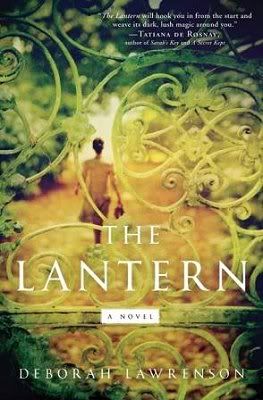 The Lantern
By: Deborah Lawrenson
When Eve falls for the secretive, charming Dom, their whirlwind relationship leads them to purchase Les Genevriers, an abandoned house in a rural hamlet in the south of France. As the beautiful Provence summer turns to autumn, Eve finds it impossible to ignore the mysteries that haunt both her lover and the run-down old house, in particular the mysterious disappearance of his beautiful first wife, Rachel. Whilst Eve tries to untangle the secrets surrounding Rachel's last recorded days, Les Genevriers itself seems to come alive. As strange events begin to occur with frightening regularity, Eve's voice becomes intertwined with that of Benedicte Lincel, a girl who lived in the house decades before. As the tangled skeins of the house's history begin to unravel, the tension grows between Dom and Eve. In a page-turning race, Eve must fight to discover the fates of both Benedicte and Rachel, before Les Genevriers' dark history has a chance to repeat itself.
When I first heard about this novel–Gothic-esque novel featuring mystery and love a la Rebecca and set in Provence, I thought it was a promising mix that I ought to check out at some point. So I did. Spoilers ahead!
The novel started off with such evocative promise. We start in the middle of what appeared to be a bump in Eve & Dom's relationship before backtracking and learning about how their relationship had began. The scenario about Dom and his first wife, Rachel, immediately reminded me of du Maurier's Rebecca. But what truly drew me to this book was the lush descriptions of Provence in all of its seasons; I've never been to the region but it sounded positively poetic in Lawrenson's writing, like Tuscany would be with other writers. Her descriptions of her surroundings were just wonderful to read, makes you want to just go there, find a small place of your own and stay there.
But despite of the interesting start, the intriguing character to whom I found myself relating to a bit and the lovely descriptive prose, the story quickly started to sort of go off on different tangents. You have the Rebecca-esque storyline with Eve (which was a nickname given by Dom; we never find out what her real name was) trying to find out what went wrong in Dom and Rachel's marriage. You have the flashback story of Benedicte and the Lincel family and their story. You have the mysterious comings and goings of what is going on around Les Genevriers itself. There's themes of loneliness and relationships and trust all mixed up in there. All of them promising; however, they all went their own separate ways for almost 4/5s of the entire novel before finally coming together in the last few chapters. The abrupt tie-in would've been better if there were more foreshadowing along the way, that all of these stories and incidents that were taking place had a purpose and were connected somehow. Halfway through the novel, I did start asking myself why I was reading all of this for.
Between the two storylines, I found myself drawn a bit more towards Eve & Dom's story, although it quickly grew frustrating a third in; I wanted to know why Dom was evading Eve's questions and what was really going, what really happened between him and Rachel. The short chapters between the two of them and the abrupt cryptic sentences from Sabine didn't quell my frustration and curiosity whatsoever. By the time I got to the part where he explained what happened, I felt bad for Dom but at the same time rather "Oh, so that was it, eh?" about it because it took so long to get to that point and I was just too frustrated to even care by then.
I'm not too sure what to feel about Benedicte's storyline; I started off feeling sympathetic for the character (her story about her and Andre was rather sad, amongst other things in her life) but halfway through I also started getting rather bored of their storyline, unsure as to how it related to what was going on on that farm in the present day storyline. I guess I wasn't as sympathetic of the characters as I thought I was, I never really managed to connect with them.
Overall, it's a lush novel with plenty of lovely descriptive prose of France and a nice dose of wanderlust at the start of it all. Eve's bookishness was something I could relate too and I liked the descriptions of her internal thinking and stuff. At the same time, I felt a bit detached from the characters, preventing me from truly connecting with them and feeling for them when the truths behind what happened to them come to the fore. The imagery was romantic but I felt it was still missing that extra something special to make it a truly wonderul experience.
Rating:
Visit the author's official website || Order this book from The Book Depository

Tags: