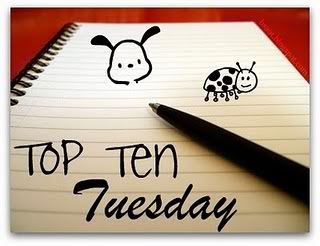 Top Ten Tuesday is an original feature/weekly meme created here at The Broke and the Bookish. This meme was created because we are particularly fond of lists here at The Broke and the Bookish. We'd love to share our lists with other bookish folks and would LOVE to see your top ten lists!

This week's topic: TBR List for Winter
It's been a while since I've done a Top Ten Tuesday meme! Anyways, it seems that I am expanding my to-read list just as I thought I was plowing through them at a steady pace (doesn't help that I'm working at a bookstore for the Christmas season =P). So anyways, here's my TBR list for the winter (in no particular order, really; this also doesn't include re-reads, which I'm planning on doing a bit of this winter season):
01. Se una notte d'inverno un viaggiatore (If on a winter's night a traveller) by Italo Calvino — I have two copies of this book: one in Italian and one in English. It's been on my shelf since early this year and I've been meaning to get around to it. Dunno which version to read; as my Italian is still pretty elementary, I guess it'll be the English one but it'd be fun to try it in Italian xD
02. The Bronze Horseman by Paulina Simmons — Another book that has been on my shelf for a while. I've heard wonderful things about this book; I would've gotten around to it sooner but because I recently finished my thesis set in the late Stalinist period, I needed a break from all things Russian. But I'll read this book soon =P
03. Sylvester by Georgette Heyer — Continuing on my Georgette Heyer roll, I have this book sitting on my Kobo eReader. I just might read it next; Heyer's books are just so much fun! xD
04. The Reluctant Widow by Georgette Heyer — Ditto as the above; the premise for this novel sounds especially hilarious so I'm looking forward to it =)
05. The Girl Who Kicked the Hornet's Nest by Stieg Larsson — Been waiting forever for this book to come out in trade paperback (boo that they won't be selling it in the mass paperback form as I have the other two books in that format) so yeah, this needs to be read sometime soon (and then maybe catch up with the Swedish adaptations).
06. 1Q84 by Haruki Murakami — I bought this for a super good deal for my Kobo eReader; my brother read it before me (he read one of Murakami's other books) and said it was a very good book. It's quite a tome so I might have to clear my reading list for this one =P
07. A Morbid Taste for Bones/One Corpse Too Many by Ellis Peters — I just bought this book today, actually lol. I only read (and watched) The Virgin in the Ice but I think the Brother Cadfael series is fantastic =D Looking forward to reading this! (Maybe I should also sit down and watch the entire series; that would be especially fun!)
08. Hidden Empire by Kevin J. Anderson — I forgot how I stumbled upon this sci-fi series but the premise sounds interesting and I'm in need of a good sci-fi series so this should do the trick (especially after watching lots of Doctor Who and writing a novel for NaNoWriMo that's science fiction in genre)
09. Inquisition by Alfredo Colitto — This book has been catching my attention every single time I've been in the bookstore lately so I bought it on my Kobo (for a very low price!) and am looking forward to reading it! I always enjoy reading novels written by European authors (been doing that quite a bit lately too, I think) =)
10. The Inheritance of Rome: Illuminating the Dark Ages, 400 – 1000 by Chris Wickham — For a bit of non-fiction on this list, I bought this book off the Book Depository some time ago and actually started reading it here and there. My knowledge of the early Middle Ages is between the end of the Roman Empire and the High Middle Ages/Early Modern Period is pretty scant so this book should be very informative.