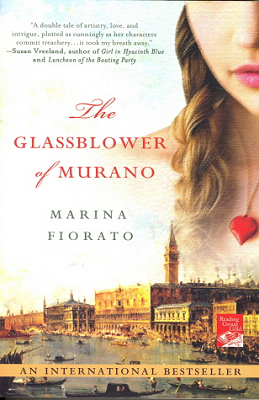 The Glassblower of Murano
By: Marina Fiorato
Venice, 1681. Glassblowing is the lifeblood of the Republic, and Venetian mirrors are more precious than gold. Jealously guarded by the murderous Council of Ten, the glassblowers of Murano are virtually imprisoned on their island in the lagoon. But the greatest of the artists, Corradino Manin, sells his methods and his soul to the Sun King, Louis XIV of France, to protect his secret daughter. In the present day his descendant, Leonora Manin, leaves an unhappy life in London to begin a new one as a glassblower in Venice. As she finds new life and love in her adoptive city, her fate becomes inextricably linked with that of her ancestor and the treacherous secrets of his life begin to come to light.
This book has long been on my want-to-read list for a very long time. I went on an Italian-setting kick after I got back from vacation so I finally got around to picking this book up (along with her other novel, The Daughter of Siena, which I will read sometime in the near future). MAJOR spoilers ahead!
The part of this book that really drew me into the story was Fiorato's description of Venice. I love the way she described the flow of people and tourists and the layout of the city itself—makes me want to go back! (I was only there for a day trip last year and it was rainy for the most part of that day!) In my opinion, I think Italian life was fairly well-represented in the book, at least in my experience with the Italian bureaucracy; it does take a long while before you get anything concrete, there's lot of papers to be filled up and things to re-verify and all that business.
The book was also informative on the subject of glassblowing and the glassblowers who resided in Venice; I knew of them but I never knew how important they were to the city. I especially liked the scene when the French "middleman" (so to speak) Duparcmieur told Corradino Manin:
"Think of it–your country of Venice has used you for yours for her ends, to augment her beauty, but has given you nothing." – p. 128 (paperback edition)
And later on, Corradino and others refer to the "crime" Corradino committed as one against the state of Venice. The academic in me found this especially fascinating as I had dealt with issues of national identity and the way that people associated and identified themselves with the state. By teaching the secret art of glassblowing to people outside of Venice–to an entirely different political body altogether–he had effectively betrayed Venice, his home, despite of the life he led behind its borders.
Plot-wise, I thought the story was interesting; Corradino's circumstances kept me especially intrigued as to how it all turned out the way it did. In a way I was compelled more by his story because of the circumstances of his life and his relationship with his daughter (which was very sweet). Leonora's was also interesting, although her story was a little obvious at times (i.e. the appearance of Vittoria, the rough patch that emerged in Leonora and Alessandro's relationship). I was particularly intrigued by her backstory and how/why she ended up moving to Venice; I guess I'm drawn to stories where someone just relocates to a totally different country to start over. I wish we could've seen more of her gradual assimilation to Venetian life and society but I'm glad how her story turned out.
I thought that a date at the start of the chapters could've been used to indicate which time period the following chapter was going to focus on because it was a little disconcerting at times, especially at the start. The first third of the novel was also a little rough to get through in a sense that you went back and forth in the characters' timelines; for example, Corradino starts off with his death (okay), then flashes back to an earlier period and then goes back to his childhood before moving again to the events leading up to his death. Leonora's story moved pretty quickly as well, leaping from what seemed to be summer to early autumn and suddenly to Carnevale in such a small span of time. I didn't mind the way the story flowed–it felt true to the novel and to Venice, really–but some indicators at the start of the chapters would've helped.
One thing that particularly irked me while reading this book was the italicised "thoughts" in between paragraphs and segments throughout the book. It was a little disconcerting to go through and disrupted the flow of reading the story. While I can see why this was employed into the novel, it seemed odd at times, like heartbeats when it's a story about glass.
Despite of that, I really enjoyed the novel. It was straightforward but it kept me engaged and interested to know how everything was going to turn out. I especially enjoyed the details on glassblowing and the descriptions of Venice, both past and present. I look forward to reading her other novel that sitting on my pile of to-read novels (and her forthcoming book focusing on Palladio; I went to Vicenza last year as well on a day trip and am intrigued by him and his work). I recommend this book for historical fiction lovers or someone who wants to do a bit of couch-travelling (or whatever the term is for reading a travel fiction—the term escapes me at the moment) or just someone who wants to read a good book.
Rating:
Visit the author's official website || Order this book from The Book Depository

Tags: