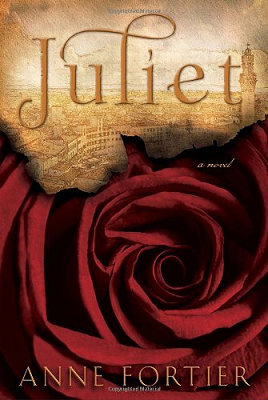 Juliet
By: Anne Fortier
Twenty-five-year-old Julie Jacobs is heartbroken over the death of her beloved Aunt Rose. But the shock goes even deeper when she learns that the woman who has been like a mother to her has left her entire estate to Julie's twin sister. The only thing Julie receives is a key—one carried by her mother on the day she herself died—to a safety-deposit box in Siena, Italy.

This key sends Julie on a journey that will change her life forever—a journey into the troubled past of her ancestor Giulietta Tolomei. In 1340, still reeling from the slaughter of her parents, Giulietta was smuggled into Siena, where she met a young man named Romeo. Their ill-fated love turned medieval Siena upside-down and went on to inspire generations of poets and artists, the story reaching its pinnacle in Shakespeare's famous tragedy.

But six centuries have a way of catching up to the present, and Julie gradually begins to discover that here, in this ancient city, the past and present are hard to tell apart. The deeper she delves into the history of Romeo and Giulietta, and the closer she gets to the treasure they allegedly left behind, the greater the danger surrounding her—superstitions, ancient hostilities, and personal vendettas. As Julie crosses paths with the descendants of the families involved in the unforgettable blood feud, she begins to fear that the notorious curse—"A plague on both your houses!"—is still at work, and that she is destined to be its next target. Only someone like Romeo, it seems, could save her from this dreaded fate, but his story ended long ago. Or did it?
This book has been on my radar since maybe last year when it first came out in hardback. I'm the type that waits for the book in paperback (given my lack of shelf space these days, and my student background) so I only got the book some time ago. I decided to bring it with me last week when I went on vacation to Italy seeing as the location was fitting (even though I didn't go to Siena; would be nice to go there again when it's sunny and not the middle of the Italian winter) and it fit nicely in my luggage. The verdict? Let's just say I wanted to stay in my hotel and finish the book rather than go out and explore the Italian countryside! lol Spoilers ahead!
I honestly don't know where to begin: the book pretty much grabbed me from the first page. Having the modern-day side of the story told from Julie's point of view was great in distinguishing between the fourteenth-century story and the present story. It was also a way to get to know Julie as a character and the way she approached the story. The writing sometimes came off a bit too academic, which was a little OOC with the character but totally understandable to my background and therefore didn't bother me too much. I like that Julie is pretty much your average person thrown into such extraordinary circumstances; while not as constantly-moving as in The Da Vinci Code, which the book was often compared to, it does have the same thrills and Julie's reactions to things come off as plausible.
The other characters that populate the novel are also intriguing, from the welcoming Eva (her last name escapes me right now) to the mysterious and sarcastic Alessandro. Julie's interaction with Alessandro was fun to read because of their dynamic and snappy dialogue; the emotional intensity was also very palpable and it really propelled me to keep on reading (late into the night when I should be resting and preparing for the next morning's adventure) and find out what twists and turns would come next in their relationship. Julie's interaction with her twin Janice was also interesting in fleshing out Julie's character although Janice did come off as more of a one-note character; her depth didn't seem as convincing as it could've been, but then again this novel is more of Julie's story, so it's not a big deal or anything.
I really appreciate the amount of research put into this novel. I was aware that Shakespeare's Romeo and Juliet was based from an older story that was set in Italy but I didn't know that it was originally set in Siena and not Verona. I love reading the fourteenth-century segments because it really does feel like a story that took place in that time period, in that location, with these people. While it does read as familiar to the play, the detail really feels like a story unto itself. I don't know if this was a direct retelling of the original story into a modern storytelling setting, but it was great to read. I like the additions from other characters over time and how the "plague on both (their) houses" really played out over time. The details about Siena itself was also fun to read and made me wish we had time to re-visit the city during our vacation!
Overall, I highly enjoyed reading this novel; it has to be one of my favourites this year. There was never a dull moment in this novel and the mystery had me guessing all the way to the end. I was quite sad to finish this novel because it felt like parting with friends. I highly recommend this novel if you're into mystery thrillers (a la Steve Berry or Dan Brown), historical fiction (a la Diane Setterfield or Ariane Franklin) and/or a good romance (take your pick).
Rating:
Visit the author's official website || Order this book from the Book Depository



Tags: