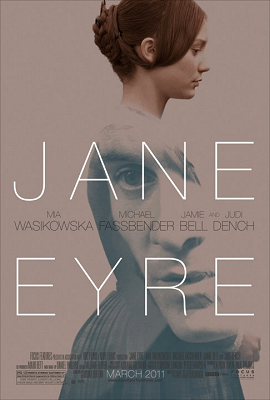 After a bleak childhood, Jane Eyre goes out into the world to become a governess. As she lives happily in her new position at Thornfield Hall, she meets the dark, cold, and abrupt master of the house, Mr. Rochester. Jane and her employer grow close in friendship and she soon finds herself falling in love with him. Happiness seems to have found Jane at last, but could Mr. Rochester's terrible secret be about to destroy it forever?
I admit, I was one of many people who were like "Why are they making another adaptation so soon?" when I first heard about this movie. I absolutely loved the 2006 version with Ruth Wilson and Toby Stephens so I wasn't entirely sure about this movie, especially as there are a number of other Bronte books that haven't been adapted yet. But then I saw the trailer and thought that there was potential for this movie. Spoilers ahead!
The first thing that really caught my attention was the cinematography, which was stunning. It's not your traditional way of filming a period drama, there's a lot of close-ups, out of focus shots and frames taken from interesting angles. One of my favourite scenes was the interim scene after Mr. Rochester's proposal where they were hanging around underneath the blossom tree and it's light and sunny and you just seem them happy and talking. No words, but it's so cute and pretty. Some of the cuts from one scene to the next was a bit abrupt but otherwise the cinematography is just a feast for the eyes. The location also helped with this: the outside shots of the moors were just breathtaking.
The presentation of the plot was interesting, starting from the moment that Jane leaves Thornfield and then conveying her childhood and her time in Thornfield through flashbacks. Given that the movie is only two hours long and there's a lot of material from the book, it feels like a way around the timing issue. But at the same time, there was still major constraints to the storyline as a result of the time cap. Unlike the 2005 version of Pride and Prejudice, I felt a lot was missing in terms of the relationship development, especially between Jane and Mr. Rochester. All of their "key" scenes were included, but it's like you're missing the friendship that got them close to begin with. I'm sure some of it ended up in the deleted scenes pile but I wish they had just made the movie a bit longer to accommodate that part of their relationship.
Casting-wise, for the most part I was impressed: Dame Judi Dench, Sally Hawkins, etc. I wish their screentime was longer but again, time constraints. I thought Michael Fassbender was an interesting choice for Mr. Rochester; he brings a rather constrained/just-below-the-surface passion to his Rochester that I find fascinating on-screen. He definitely had the brooding down to a t. I was initially okay with Mia Wasikowska cast as Jane Eyre; I never watched any of her movies before so the casting didn't mind me. However, there were a number of clips released before the movie came out and her performance came off as lukewarm for me but I figured it was because I wasn't seeing the full performance from start to finish. Having seen the movie now, I can say that her performance for the most part was lovely, in keeping with Victorian mannerisms though the more fiesty side of Jane doesn't entirely show a lot of the time or falls a little short.
The one part that left me sorely disappointed was "the" scene: the proposal scene. While I thought Fassbender and Wasikowska's chemistry for the most part was good, I don't know what happened to this scene. I've watched it a few times over and I think it comes down to the delivery of those lines on Jane's part; some of the sentences came off as interrogative rather than just statements and it just sounded weird. I think part of this is the script; while it was nice that much of the lines were drawn directly from the book, this scene could've used a bit more editing. The part where Mr. Rochester grabbed her and she was saying how she was a free person who exerts her willpower or another—it came off a bit funny which, while it works great in the book, it doesn't come off so great on-screen.
I should add that the scene after the fire where Mr. Rochester gives his thanks to Jane was as close to electrifying, the way they would draw closer and closer. The scene after the big reveal was made was also very intense, with Mr. Rochester pleading his case to Jane (in what was probably his best scene in the entire movie; here's the passionate Rochester really coming through, out of the Victorian mannerisms).
On another note, the soundtrack is fantastic. You can never go wrong when Dario Marianelli is in charge of the score; he always comes up with such beautiful work that really reflects the tone of the movie.
Overall, this adaptation of Jane Eyre is decent enough. It's unfair to compare it to the 2006 version where the time allotted to the story allowed for a complete development of the story (and to be honest had more electricity in the emotions that the story conveyed) but one can't help it. It's certainly a beautifully-shot movie (a la Joe Wright) and I reckon we'll be expecting a lot of wonderful things from Cary Fukunaga. I think the movie really suffered from the time constraints; another thirty minutes would've fleshed out Jane and Mr. Rochester's relationship more fully as well as the ending (which wasn't too bad but again, could've been longer). A bit more editing on the script also would've helped it from falling a bit funny to one's ears.
Rating:
Tags: