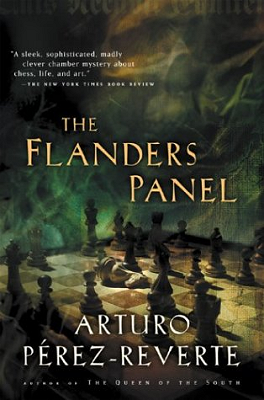 The Flanders Panel
By: Arturo Perez-Reverte
While restoring a 15th-century painting which depicts a chess game between the Duke of Flanders and his knight, Julia, a young art expert, discovers a hidden inscription in the corner: Quis Necavit Equitem. Translation: Who killed the knight? Breaking the silence of five centuries, Julia's hunt for a Renaissance murderer leads her into a modern-day game of sin, betrayal, and death.
This is the third book I've read by Perez-Reverte and I have to say, this has to be my favourite from him. Some spoilers ahead!
Like his other novels, Perez-Reverte starts off this novel by throwing you directly into the action and spends the first chapter setting up the protagonist, her life and the important people who populate it. The characters in this novel are pretty memorable and unique: the cultured and dramatic César, the enigmatic Muñoz, the cougar-ish (not a word but I couldn't think of an appropriate adjective here) Menchu, the weasely Montegrifo, etc. Julia herself is an interesting character, very level-headed but cultured and good at what she does. They all come with their own complexities but it's not over the top or anything (though I wonder if there really are César-like personalities out there, he really struck me as unique) and none of them are annoying or anything, you really root for them.
What's also really enjoyable about the story is the mix of art and culture in the mix, which adds a unique flavour to the story. In a way it logically ties in with César, Menchu and Julia's lines of work but at the same time it's part of who they are (except Menchu, who hilariously mixes references up every so often—poor woman does try though). I admit, I'm not well-versed in the classics though I tried to get through some of the major works, but I appreciate the allusions and references. The references to chess, which plays a major role in the story, also weaves in quite wonderfully into the story, but I'm not much of a chess player so I sometimes get lost in the details. But the details and references are never clunky or heavy-handed amidst the flow of the story.
As for the mystery itself, it's quite gripping. For most of the novel, I've been trying to work through the details and figuring out who could be the culprit. I'm not going to say anything about how it turned out but I will say that the process is worth it. It kept me preoccupied with the neat twists here and there. And tying in the art and chess references makes the mystery even more interesting. This is how suspence novels should be written! I was quite engrossed by it.
Overall, this was a clever and entertaining novel that kept me interested and on edge from start to finish. I like how there was all these different strands going on throughout the novel, from the mystery itself to comments about love and life and the intricacies of chess. I highly recommend this novel to anyone and everyone *thumbs up*
Rating:
Visit Arturo Perez-Reverte's official website || Order this book from the Book Depository



Tags: