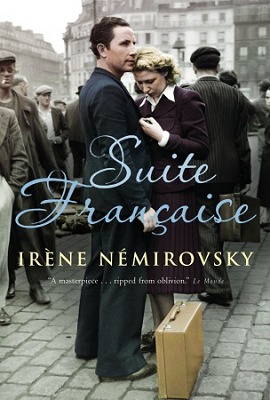 Suite Francaise
By: Irene Nemirovsky
By the early l940s, when Ukrainian-born Irène Némirovsky began working on what would become Suite Française-the first two parts of a planned five-part novel-she was already a highly successful writer living in Paris. But she was also a Jew, and in 1942 she was arrested and deported to Auschwitz: a month later she was dead at the age of thirty-nine. Two years earlier, living in a small village in central France-where she, her husband, and their two small daughters had fled in a vain attempt to elude the Nazis-she'd begun her novel, a luminous portrayal of a human drama in which she herself would become a victim. When she was arrested, she had completed two parts of the epic, the handwritten manuscripts of which were hidden in a suitcase that her daughters would take with them into hiding and eventually into freedom. Sixty-four years later, at long last, we can read Némirovsky's literary masterpiece

The first part, "A Storm in June," opens in the chaos of the massive 1940 exodus from Paris on the eve of the Nazi invasion during which several families and individuals are thrown together under circumstances beyond their control. They share nothing but the harsh demands of survival-some trying to maintain lives of privilege, others struggling simply to preserve their lives-but soon, all together, they will be forced to face the awful exigencies of physical and emotional displacement, and the annihilation of the world they know. In the second part, "Dolce," we enter the increasingly complex life of a German-occupied provincial village. Coexisting uneasily with the soldiers billeted among them, the villagers-from aristocrats to shopkeepers to peasants-cope as best they can. Some choose resistance, others collaboration, and as their community is transformed by these acts, the lives of these these men and women reveal nothing less than the very essence of humanity.

Suite Française is a singularly piercing evocation-at once subtle and severe, deeply compassionate and fiercely ironic-of life and death in occupied France, and a brilliant, profoundly moving work of art.
This book came at the recommendation of a friend who read it a few years ago and thoroughly enjoyed it. I kept it in my radar but actually got around to reading All Our Worldly Goods first before this novel (which I also enjoyed, though I don't think I had time to type up a review of sorts). I got a hold of a copy last year but didn't have time to read it until now. Major spoilers ahead!
My first impression as I was reading this book was just how well-written it was. I say this because this book was only a rough draft of the novel; as the summary indicates, this book was meant to be a five-novel series interconnected to each other with the occupation as a backdrop. I can only imagine how awesome the books would have been had she lived to edit and write the remainder of the novels. It's sad to know that her life was cut short before her masterpiece could have been fully realised.
Suite Francaise is very informative in giving a sense of what life was like before and during the Nazi Occupation and how the everyday person responded to what was going on. I've only read about the French experience during the Second World War from a broad or political historical perspective; I've never read anything that discussed the experience of the general population to their captors. Because Nemirovsky was writing this book during the war, it adds to the rawness and the sincerity of what you're reading; she's seen and experienced some of what the characters were experiencing.
The first novella, Tempete en Juin, was particularly shocking for me because I had no idea how chaotic it was for Parisians and other Frenchmen and women in the days prior to the Nazi takeover of the capital and of the rampant chaos that ensued afterward. You see through this section how chaos can reduce people to doing things they wouldn't normally do during peace time, such as stealing. The story that particularly shocked me was the death of Father Philip Pericand, which was brutal and just really drove home how the war can reduce people to such acts and get away with it without anyone truly noticing. Dolce was also interesting from the perspective of "what happens when the conquerers and the conquered end up living side by side?" It shows the complex tug between the French's patriotism and solidarity with their countrymen who are still fighting and seeing and realising that the enemy is just as human as they are. I wonder how Nemirovsky would have dealt with this complexity had she lived to know that people who fraternised with the enemy during the war would be condemned after the war (I think this happened in France; I remember reading that this happened in the Lower Countries after they were liberated).
Nemirovsky's characters are unique, coming mostly from different spectrums of society. French society has always intrigued me in a sense that there's this sort of hierarchy that persists even today, I feel (or that was the sense that I got from reading Burbery's The Elegance of the Hedgehog). In Suite Francaise, you get a sense of how the farmers, the rural population, the landowners, the creative intelligentsia, the aristocrats and the average, urban family dealt with the occupation and the different concerns they had. I think Tempete en Juin did a better job at presenting these different points of views since there were more characters coming form different stations in life. Dolce however presents the conundrum of life with the German occupiers quite nicely and the conflicts that arise from there; it's sad to see how, in a different life and time, people like Lucile and Bruno could have had their chance without worrying about the stigma of loving the enemy or not being patriotic to one's country and so forht. I love how amidst the urgency of the war and of survival, there's this beautiful, melancholic streak of humanity that runs in all of these characters as they reflect and preoccupy themselves with their personal troubles which makes them tragic but defining in such a calamity. Madeline's story come to mind; amidst the war and the occupation, she's quietly dealing with the personal conflict that she doesn't love her husband but someone else who will never return. The elder Pericand is dealing with the fact that he's dying as the stress of the Nazis advance. It's interesting to see how these personal issues weave in with the larger chaos of the wartime environment. Nemirovsky's prose certain helps in bringing these characters to life as well.
Overall, this book absolutely blew me away in its scope and the characterisations. Nemirovsky never falters in switching between perspectives and the narrative was just amazing. I highly recommend this novel to anyone who's into reading books set in World War Two, France or just wants to read a very good book.
Rating:
Visit Irene Nemirovsky, the Definitive Website || Order this book from the Book Depository



Tags: