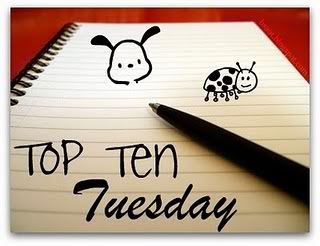 Top Ten Tuesday is an original feature/weekly meme created here at The Broke and the Bookish. This meme was created because we are particularly fond of lists here at The Broke and the Bookish. We'd love to share our lists with other bookish folks and would LOVE to see your top ten lists!

This week's topic: Top Ten Books That Should Be In A Beach Bag (your perfect beach reads!)
Yay! Summer's usually the time when I tackle the large books like Dostoevsky and Dickens because they're not exactly relaxing books to read when you're neck-deep in academic literature for the most part of the year but I like to mix them up with some exciting but light paperbacks. So the following list is just that ^_~
01. Tell No One by Harlan Coben — I've seen his books in the bookstore but I've never picked them up. Then I found out that French actor/director/writer Guillaume Canet directed a movie based on this book so I decided to check it out. I actually took it with me to Europe last summer and was absolutely enthralled by the story; it was fast paced and the mystery was intriguing right up to the very end. Totally recommend this book if you're into suspense and mystery.
02. Any of Daniel Silva's books — I couldn't figure out which book to recommend from him so I figure any book by him would be a great start. He's personally my favourite novelist in the thriller/suspense/espionage genre out there right now; his novels are always totally engrossing, fast-paced filled with great lines and well-rounded characters.
03. One Day by David Nicholls — I read this book earlier this year since the movie's coming out soon. I liked the premise of the book, focusing on two people and the state of their relationship on the same day year after year. I thought the characters were relatable and the ups and downs relatable to life today. Great beach read.
04. Miss Pettigrew Lives For a Day by Winifred Watson — I read this book last year and absolutely adored it! There was a movie that was adapted a few years ago from this novel and it's quite close to the novel. But yeah, the novel was just quite wonderful, left me in such a good mood xD
05. The Name of the Wind by Patrick Rothfuss — I read this book a few summers ago and it was very unique and wonderful piece in the fantasy genre and just an enjoyable read all around with great characterisation. I look forward to reading the next book (it's out now but I'm waiting for it to hit mass paperback =))
06. Gods Behaving Badly by Marie Philipps — Simply put, this book is hilarious. Totally worth packing into your beach bag if you're looking for a good laugh.
07. The Guernsey Literary and Potato Peel Pie Society by Mary Ann Shaffer and Annie Barrows — Another book I ready a few summers ago and absolutely adored the story. The novel is told in correspondence and the authors do a wonderful job in bringing these characters to life. I really felt like the characters were my friends at the end of the novel.
08. The Thorn Birds by Colleen McCullough — If you're looking for a family saga sweeping decades and generations to bring with you, this is definitely the book to check out. The characterisations are amazing and the dynamics and relationships were also interesting to read, definitely kept me going right up to the very last page.
09.Warbreaker by Brandon Sanderson — For the fantasy fans reading this list. The world he creates for the premise of this novel and the magic system that governs it is unique and intriguing. And again, another captivating story with great dialogue and fantastic characters. One of my favourite reads from last summer.
10. Where Angels Fear to Tread by C.S. Harris — This is book one of Harris's Sebastian St. Cyr mystery series; there's five novels in this series so far and they're quite intriguing. They're set in the early 19th century in England so it's both a historical fiction and a mystery as Sebastian St. Cyr sets out to solve murders while tackling with the whole classes issue. Oh, and did I mention Sebastian St. Cyr is like a mix of Mr. Darcy and James Bond? ^_~
And that's my list for summer beach reads! I would've also recommended The Shadow of the Wind by Carlos Ruiz Zafon but this novel has such a particular atmosphere that I would save that for an evening read when it's dark out instead of the beach—definitely adds to the mood of the story! There were also another few novels that came to mind but I figured they were a little heftier to carry and to read and the beach or a vacation spot is a place where you'd probably want to read something lighter and fun ^_~