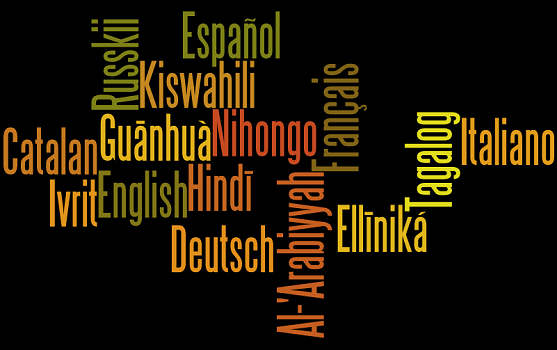 So despite my grovelling and whining about hammering grammar rules and vocab words into my head (which, btw, I have to start doing again soon for the second round of my Russian translation exam), I am rather intrigued by languages and its development, transformation and dissemination over time. Friends have caught my attention that new studies have been made concerning its development and I've actually picked up last week's issue of The Economist to read their article on it (have yet to read Doctors Atkinson and Dunn's articles on their take on language); while I find some time to read it, you can read it yourself over at Economist.com.
In the meantime, I came across this article a few weeks ago about languages–Language at risk of dying out – the last two speakers aren't talking–and it just struck me how language is constantly changing: some become the franca lingua and others grow into disuse and eventually die out. I was reading some of the comments to this article and the ones that talk about how people should just let the unused languages die out frustrate me because, as I've learned through my research and my studies, languages are important to a distinct culture, a distinct national/ethnic/social identity. To ignore it, let it die, erase it without some record is essentially to let unique culture die. People may laugh off humanities and cultures as unimportant compared to economics, sciences and politics but it's just as important because in a way it tells us who we are as people. I mean, try telling the people in Basque Country that because their language is not significant enough for trade on the international level that their language should just be allowed to die out—they've been fighting for over two centuries for their right to retain their heritage, identity and, most importantly, their language. It's an important cultural factor and I appreciate those who go out to record these languages before they completely become dead.
This article also caught my attention some time ago although I realised upon reading it that it's a bit hefty to go through because it's a French philosopher who wrote it -_-; She makes it sound like Sarkozy is some kind of communist who wants to do away with the past, including the structure of language. While I understand that the French have been fighting tooth and nail to ensure that French continues to be an important language on the scene (as I understand it, the French are growing concerned that it's not adapting as fast as English and Mandarin to the ever-changing vocabulary of the modern age), this article comes off more as an attack on Sarkozy the political figure as opposed to the overarching concern of the state of the French language. But there it is for anyone who's interested in checking it out.