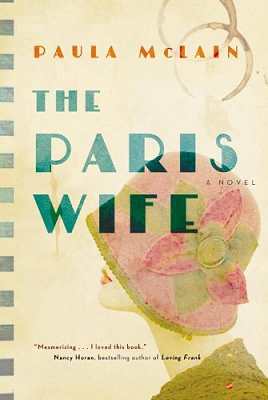 The Paris Wife
By: Paula McLain
No twentieth-century American writer has captured the popular imagination as much as Ernest Hemingway. This novel tells his story from a unique point of view – that of his first wife, Hadley. Through her eyes and voice, we experience Paris of the Lost Generation and meet fascinating characters such as Scott and Zelda Fitzgerald, Gertrude Stein, Ezra Pound, and Gerald and Sara Murphy. The city and its inhabitants provide a vivid backdrop to this engrossing and wrenching story of love and betrayal that is made all the more poignant knowing that, in the end, Hemingway would write of his first wife, "I wish I had died before I loved anyone but her."
I was quite thrilled when I learned that I won an advanced reading copy of The Paris Wife on GoodReads. The story intrigued me despite knowing almost nothing about Ernest Hemingway (save for the biographical bits here and there from the 1996 movie In Love and War with Sandra Bullock and Chris O'Donnell) and having read nothing by him (though to be fair I haven't really read very many books by authors from this era). So this book was really a nice introduction to the life and figure of Ernest Hemingway but also a pleasant reading experience. Some Spoilers Ahead!
As mentioned in the book blurb, the novel recounts the early years of Hemingway's career and of his first marriage to Hadley Richardson. It's incredibly domestic in a sense that the story really revolves around these two characters, despite it being written from Hadley's perspective. It's almost as if you're really in the room observing this relationship, the good times and ultimately the bad times. Occasionally you get these third-person narratives from what's going on at Ernest's end, which counters nicely with Hadley's narrative. This becomes particularly interesting when things between to sour in their relationship and all the reader knows is Hadley's thoughts and feelings about the whole matter. It's such an incredible journey for the two that I couldn't believe that their relationship covered a span of five years (seemed longer; just another sign of how good this book is). I found myself rooting for these two and hoping that they'd make it (despite knowing what happened between them in hindsight).
Written in Hadley's narrative, you really get a sense of what she's feeling over the course of the relationship and how she saw everything around her, whether it be in Chicago or in Paris. She clearly came from a different lifestyle, upbringing and perspective from Ernest, from the most practical, everyday matter to the larger concepts of life and love. She constantly found herself struggling to break out of the roles and criticisms that had been labelled on her by the people around her, longing to return to the fearless girl she once was. Inherently she is a very kind person who always sought the good in others regardless. In that sense she countered Ernest's more bold, passionate and darker attributes; you can see what he saw and needed in her. At the same time, you can also see how that different perspective she carried can ground her whereas he was easily drawn in to the carefree decadent life that their friends around them led. While it's a story about their relationship, you really also get a glimpse of how Hadley changed as an individual.
Despite it being written in Hadley's first-person perspective, the narrative is simple yet evocative. You really feel as though you're in 1920s Paris or Chicago, complete with the lifestyle and culture of the times. As an aside, I was also thrilled to have known that they spent a bit of time in Toronto, which was pretty cool.
Overall, The Paris Wife was a wonderful book about a relatively obscure figure in Hemingway's life. Fans of his books and of the 1920s will surely enjoy the novel. Or, if you're like me and are not as aquainted to his works, you'll enjoy it anyways with such wonderful prose and sharp characterisations.
Rating:
Visit Paula McLain's official website || Order the book from the Book Depository



Tags: