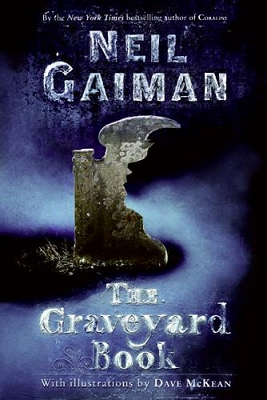 The Graveyard Book
By: Neil Gaiman
It takes a graveyard to raise a child.

Nobody Owens, known as Bod, is a normal boy. He would be completely normal if he didn't live in a graveyard, being raised by ghosts, with a guardian who belongs to neither the world of the living nor the dead. There are adventures in the graveyard for a boy: an ancient Indigo Man, a gateway to the abandoned city of ghouls, the strange and terrible Sleer. But if Bod leaves the graveyard, he will be in danger from the man Jack—who has already killed Bod's family.
This book has pretty much been in my radar since I first heard that it was being released a few years ago. I've already read a few of Gaiman's books and it's always guaranteed to be interesting and unique. For some reason it took over two years before this book came out in the small, $9 paperback, and when it did it took a bit longer before I got around to picking it up. But I finally have and here we are. Some Spoilers Ahead!
As the blurb mentioned, this novel is about a kid named Nobody who grows up in a graveyard after his family was killed by an assailant who got into their house. Which such an opening premise, I wondered how it ended up in the kids' section of the bookstore (though my brother gently reminded me of all the other stuff you could find in the kids' section of stores these days). Not that this is a bad thing, of course (after all, don't many movies out there follow something of the same premise? The Lion King comes to mind); the set up of the story of how Nobody ended up growing up in the graveyard is quite a suspenseful one.
Following his circumstances of being raised in a graveyard by ghosts of all periods is a number of chapters relating to a number of adventures he has in the graveyard. His upbringing obviously has that paranormal element of being taught how to Fade and being able to see in the pitch dark and being taught a number of things that are out of this century. At the same time, it has that very real, very human element of making mistakes, not listening to your elders and the sort of experiences you have when you are growing up. It's very relatable and you're in for quite an adventure.
Gaiman once again has made just such a wonderful world, using familiar elements we know and creating a magical story out of it. The graveyard feels like a world of its own and the characters are all interesting and colourful. You really grow to like the main character, Bod, and even feel protective of him when he starts wandering out into the real world (knowing that the threat who killed his family is still loose out there somewhere). He goes through all the phases a regular boy his age goes through and it's part of the charm of the story.
Overall, it was such a wonderful book to read, I really didn't want it to end when I reached the last few pages (I nearly almost cried at the end—which is a) rare for me and b) clearly a sign that I really loved all the characters). It felt like parting from good friends. Gaiman did a wonderful job of really bringing such unique and interesting characters to life and crafting such a wonderful story with such familiar elements. Young adults and adults alike will enjoy this.
Rating:
Visit Neil Gaiman's official website || Order this book from the Book Depository



Tags: