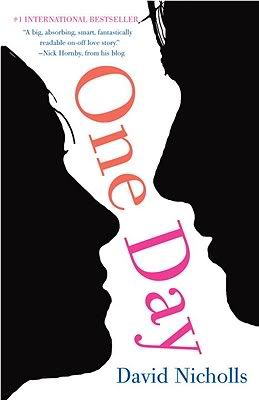 One Day
By: David Nicholls
It's 1988 and Dexter Mayhew and Emma Morley have only just met. But after only one day together, they cannot stop thinking about one another. Over twenty years, snapshots of that relationship are revealed on the same day-July 15th-of each year. Dex and Em face squabbles and fights, hopes and missed opportunities, laughter and tears. And as the true meaning of this one crucial day is revealed, they must come to grips with the nature of love and life itself.
I forgot what list I read but this book showed up as one of the best for the year. The premise intrigued me (especially the fact that every chapter focused on July 15th year after year) and I was in need of a good book that would keep my mind off the stress that is my thesis. Some spoilers ahead!
What can I say about this novel? There's no definitive plot per se with this novel and is very much character-driven; you read on to see whether their circumstances would improve, whether they would become better people and, perhaps the main thing that readers would look out for, whether Dex and Em would hook up. Their first chapter together in 1988 starts with a hook up but then over the years, they maintain a level of friendship that makes you wonder what possibly happened that caused them to not pursue a relationship. There's a couple of moments over the years that were close turning points but you keep reading to find out and see how their relationship progresses over the years. My favourite aspect of the novel had to be their relationship, the banter between them, just how well they know each other. You're frustrated at times when either Dex or Emma are being stubborn and impeding from the relationship from moving forward but it's realistic, these things happen.
Separately Dex and Emma are interesting characters in their own right. Of course a lot of the interest and entertainment in terms of the story comes from their interactions but apart they are still interesting because of the personal issues that they have to wrestle within themselves. Dex is all about fun without thinking about the consequences or seriously about the future or what he really wants to do. Emma is insecure of herself and is frustrated at the way her life turned out. I found myself relating to some of the concerns and feelings they were expressing in the first half of the novel as a fellow 20-something.
There's nothing else I could really comment on the novel because it's so character-driven and such a review would likely give away the entire novel (as there is a bit of a shocker towards the end). But I really enjoyed the format of each chapter being a snapshot of the same day of the following year in their lives. I thought the final part of the novel was a lovely touch and surprise and brings the story to a full circle. It's poignant, it's funny, it's touching. I ended up really invested in these characters and where their relationship was going. I definitely recommend this novel.
Rating:
Visit David Nicholls's official website || Order this book from the Book Depository



Tags: