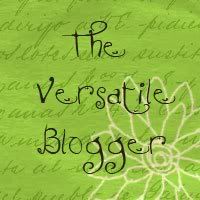 I was awarded this lovely blogger award by Zakiya LadyWings @ Butterfly Feet Walking on Books earlier this week. Thank you soooooooo much, that was very thoughtful of you and I really appreciate it =) It's also my first blogger award so that's pretty cool too =D
When accepting this award, you are asked to:

1) Thank and link back to the person who gave you this award. (done)
2) Share 7 things about yourself.
3) Pass the award along to 15 bloggers who you have recently discovered and who you think are fantastic for whatever reason! (In no particular order…)
4) Contact the bloggers you've picked and let them know about the award.
Okay, 7 facts about myself:
01) Been reading quite a spectrum of books these days, from classical literature to general fiction to historical fiction and historical non-fiction but my roots lie in science fiction and fantasy. Grew up to Star Trek novelisations, J.R.R. Tolkien, Tad Williams, Frank Herbert and company =)
02) When I started my undergrad, I wanted to specialise in British history and international relations. When I graduated from my undergrad, I specialised in Russian & Soviet history and identity politics
03) My birthday usually falls a week before (Canadian) Thanksgiving
04) I'm left-handed
05) I presently own 5 pairs of Converse sneakers (soon to be 4 because one of them has been beaten up pretty badly from walking across Europe, lol)
06) I love coffee. No, really =P
07) I recently realised how attached I am to my email. My internet connection can be crappy (and it has had its ups and downs since September) but as long as I can check my accounts, I'm good, lol.
And the fifteen blogs I pass this blog along to:
01) ProSe
02) Reid's Readings
03) The Book Coop
04) The Crowded Leaf
05) The Perpetual Page-Turner
06) The Book Whisperer
07) The Bluestocking Guide
08) The Bookish Snob
09) Escape Between the Pages
10) Everything Distils Into Reading
11) The Literary Lollipop
12) Fluidity of Time
13) Christina Reads
14) Bookramblings.net
15) Explorations, Reflections, and Meditations
Congratulations to all the winners! =)