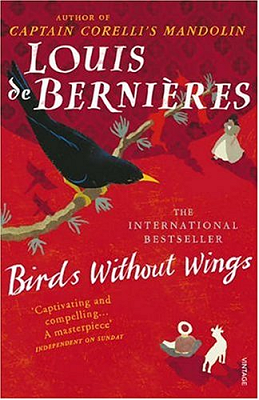 Birds Without Wings
By: Louis de Bernieres
Set against the backdrop of the collapsing Ottoman Empire, the Gallipoli campaign and the subsequent bitter struggle between Greeks and Turks, "Birds Without Wings" traces the fortunes of one small community in south-west Anatolia – a town in which Christian and Muslim lives and traditions have co-existed peacefully for centuries. When war is declared and the outside world intrudes, the twin scourges of religion and nationalism lead to forced marches and massacres, and the peaceful fabric of life is destroyed. Philothei, a Christian girl of legendary beauty, and Ibrahim the Goatherd who has courted her since infancy are but two of the many casualties. With the end of a community that once transcended religious differences, their great love seems destined to end in tragedy and madness…
So as you may know, I read Captain Corelli's Mandolin a few months ago and absolutely loved it (click here to read my review). So I browsed through his bibliography and Birds Without Wings caught my attention. I didn't know much about life in the Ottoman empire but merely the basics of its place in European history so reading this book was an interesting experience for me. Spoilers ahead!
For starters, I should say that the blurb for this novel is a bit misleading: yes, there is the relationship between Philothei and Ibrahim but it's not the focal point of the novel. In fact, there's less focus on their relationship compared to other characters like Rustem Bey, Karatavuk, Iskander and even Mustafa Kemal himself. It was a bit surprising as I read through this novel but it's not disappointing or anything. Just thought you may want to know if you're thinking of picking it up solely for the love story.
What struck me about this novel was the scope of the story. While in Captain Corelli's Mandolin the story was focused on the individual inhabitants of the island of Cephalonia and then their place in the Second World War; sometimes the wider scope of WW2 is merely in the background. I thought that the First World War and the dissolution of the Ottoman Empire was a bit more upfront in this novel, with the situation of the individual inhabitants going side by side with time spent on both stories equally. That's not to say that they don't overlap and are quite separate but I thought that the international situation was featured a lot more than it was in Captain Corelli's Mandolin. But moving away from the comparisons with his previous work, this is a wonderful novel. Though its scope is wider, nothing's really lost in the story.
Going back to the characters, I think that they are the strength of this novel. The cast of characters in this village of Telmessos are colourful with their own personalities and struggles in life (hence why I mentioned at the beginning that Philothei and Ibrahim's relationship isn't front and centre in the novel). It's interesting to see them interact with each other and how they were all friends despite of their different religions. That's another striking thing about thsi novel that de Bernieres did a wonderful job of conveying: how these characters, while they were aware of their neighbours' different religion (and sometimes treating it as a stigma against them—both sides do it), they nonetheless respected it and even asked their neighbours to pray for them when something bad is going on in their lives. It's a fine line, but there's a respect and tranquility that de Bernieres conveys through their interactions. The village inhabitants were so engaging that I actually enjoyed their sections of the novel moreso than the sections on Mustafa Kemal and the international/historical/war segments of the novel (very weird considering I am a history student/geek)!
de Bernieres also touches on the horrific effects of war on the frontlines, at first during the Ottoman Empire's participating in the First World War and then with the Greeks' fight for independence. Karatavuk, Mehmetcik and Ibrahim participated in the fighting in different ways and were all affected in different ways.
The ending of the novel was particularly heartbreaking in seeing how Greece's independence and the dissolution of the Ottoman Empire effectively tore the village apart with the Greeks forcibly relocated to Greece. It's the sad affect of nationalism on both sides, parting friends, neighbours and lovers from each other. You hope that they would reunite again at some point but given world history and the events that Turkey and Greece encountered later in the century, you realise that the parting is rather permanent.
Overall, it was a very engaging and captivating novel about a very interesting period of history and a part of the world. The reason I didn't give it five stars is because some parts about the war didn't engage me as much as the rest of the novel (very surprising on my part) and I felt that there was something missing. I still immensely enjoyed it and definitely recommend it to historical fiction fans and de Bernieres fans!
Rating:
Visit Louis de Bernieres's official website || Order the book from the Book Depository



Tags: