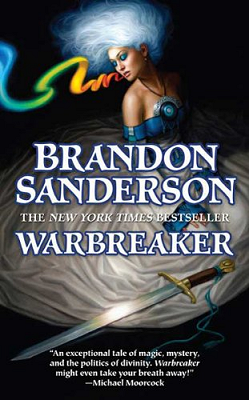 Warbreaker
By: Brandon Sanderson
T'Telir, capital of Hallandren, is a colourful city by the sea where gaily dressed crowds bustle through sunny streets and worship heroes who have been reborn as gods. Ruled by the silent, mysterious God King, the pantheon is nourished by offerings of Breath, the life force that keeps thema live and youthful.

Exiled in Idris, the former royal family reluctantly betrothed a princess to the God King. Arriving in T'Telir, she finds both the city and the marriage are not at all what she expected. Her only ally is Lightsong, a god who is skeptical of his own divinity, who fears that war with Idris is inevitable.

Meanwhile, another new arrival in T'Telir, one who bears the sentinent sword Nightblood, makes cunning plans based on the unique magic of Halladren, which uses colour to focus the power of Breath–plans that could change the world.
I read Sanderson's Elantris last year and was absolutely enthralled by his storytelling. I hadn't gotten around to his Mistborn trilogy though I heard wonderful things about it too. So when I saw Warbreaker in mass paperback (and so quick too! Could've sworn the hardcover came out back in the late autumn), I had to check it out. Spoilers ahead!
Where to begin? Reading Warbreaker once again solidifies how entertaining and visionary a storyteller Sanderson is. Nothing in his story feels contrived; the world-building is impressive and detailed, the politics was plausible and the magic system was pretty unique and intriguing, something I haven't seen in the fantasy genre yet. It's also pretty detailed, something that you learn more and more of along the way. Most of the story is held in T'Telir but you get a sense of what life and culture is like for the people of Idris and Pahn Kahl as well. The history and mythos is also intriguing in itself, as well as the process of becoming a Returned. I don't think there's anything in the world-building process that was left untouched explanation-wise in the story!
Sanderson also created a wonderful cast of chararcters. Lightsong has to be my favourite with his hilarious remarks, to the exasperation of his high priest! I was also intrigued by his curiosity with his past life and his interactions with his high priest, Siri and the other gods (who kind of remind me of the Greek gods) were fascinating to read. Siri and Vivenna were also interesting characters with their own strengths and weaknesses. What I love about Sanderson is that he doesn't create annoying female characters like I've read in a number of other fantasy works; the women who populate his stories aren't as whiny despite how precarious their situations are. I love how Vivenna's situation conveys the idea of how no matter how well-trained and well-educated you are, things are still different once you're in the real world. Siri's development from a confused and untrained princess to a woman who's come into her own in her royal position was also a pleasure to read through. Vasher was also intriguing; I love how there's more to him than meets the eye =)
Overall, I thoroughly enjoyed reading this novel—I pretty much spent all afternoon reading it! lol. Sanderson has once again produced a fantastic standalone novel (very hard to find in the fantasy genre these days). I definitely recommend it if you're into the fantasy genre.
Rating:
Visit Brandon Sanderson's official website || Order this book from the Book Depository



Tags: