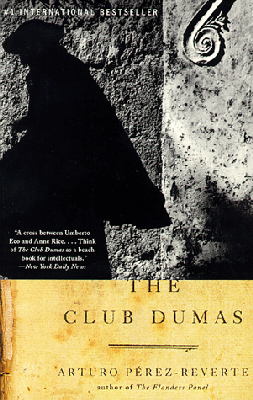 The Club Dumas
By: Arturo Perez-Reverte
Lucas Corso, middle-aged, tired, and cynical, is a book detective, a mercenary hired to hunt down rare editions for wealthy and unscrupulous clients. When a well-known bibliophile is found hanged, leaving behind part of the original manuscript of Alexandre Dumas"s The Three Musketeers, Corso is brought in to authenticate the fragment.

The task seems straightforward, but the unsuspecting Corso is soon drawn into a swirling plot involving devil worship, occult practices, and swashbuckling derring-do among a cast of characters bearing a suspicious resemblance to those of Dumas"s masterpiece. Aided by a mysterious beauty named for a Conan Doyle heroine, Corso travels from Madrid to Toledo to Paris in pursuit of a sinister and seemingly omniscient killer.
I picked this book up as a result of my search for books with similar themes to Zafon's The Shadow of the Wind: love of books, a mystery, focus on a particular classic—what's not to draw me in? Spoilers ahead!