This book has been on my want-to-read list for a few years now, after having watched the movie years ago. Weeks ago I was in the mood for a historical fiction novel and finally decided to pick it up (I have the version with the cover below (which is awesome, the cover's very intriguing); then I went to the bookstore yesterday and found out that the Vintage Classics version came out xD). I didn't get around to reading it until I came back from my (surprise!) trip home last weekend.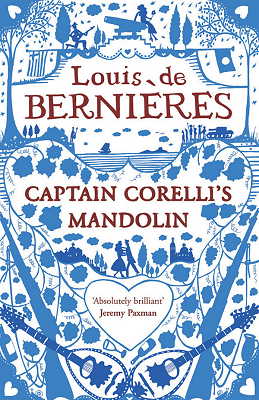 Captain Corelli's Mandolin
By: Louis de Bernieres
It is the salad days of the Second World War and Captain Antonio Corelli, a young Italian officer, is serving out his time as part of the occupying forces on the Greek island of Cephallonia. While the war is raging, things seem awkwardly serene from his agreeable posting, as Corelli is a kind, conscientious man who wants nothing more than peaceful war. A consummate musician, he passes time plucking his mandolin and courting the daughter of a local daughter. Just as their love begins to bloom, the intensity of the war is turned up, bringing the savagery within a heartbeat of the island.
Now, I've read a lot of books set in World War Two, but I've never read anything set in the Balkan front of the war. In fact, I've only read two other books (that I can recall) that even take place in Greece (Victoria Hislop's The Island and Byron Ayanoglu's Crete on the Half Shell) so this was an interesting read for me. But anyways, I finished reading it and I have to say, I loved it a lot more than I initially thought I would!Spoilers ahoy!
I mentioned this briefly on GoodReads, but this book was a lot more than I thought (which goes to show you how much exactly was watered down for the film adaptation): it was a lot funnier, a lot more introspective and thoughtful and a lot more multi-faceted than I had initially thought the story would be. There's more than Pelagia and Antonio Corelli's love story involved: there's Carlo's story, an Italian soldier with a secret; there's Mandras's story, which was a deeper than just his love and pursuit of Pelagia. The stories are also a lot more fleshed out than what was presented in the movie: you really see a progression in Pelagia and Antonio's relationship, how they came to fall in love, how vibrant and dynamic their interactions were. Reading of their thoughts and perspectives on the whole matter was also interesting and you really get a sense of how many different elements are involved: there's their love for each other, there's the cultural element involved, there's the implications of war, and so forth. It was wonderful to read about Pelagia and Antonio's relationship because of how vibrant it was amidst the chaos and the problems of war that is raging outside and all around them.
Aside from the relationship, you also gain a glimpse of what all of the characters were going through with the war going on. You have characters trying to prove themselves, characters who were just swept away in the current of events, characters who just want to live through it and return to their peace and quiet. What I found rather striking was how for the last fourth of the book, you really get hit with the cold and harsh reality of war and the aftermath of war and in particular, the aftermath of the war in Greece with the factions fighting and the rise of communism in the country. Brutality and poverty were just all-consuming and an everyday reality.You also gain a glimpse of how much each character has changed by the end of the war, how much the war has affected them, how much they've lost, whether it be physical or emotional or psychological.
The characters themselves were really well drawn out: I was surprised at how much depth there was to Mandras and his reasons for join in the war, you see Antonio struggle to interact with the islanders despite of the fact that he is perceived as the invaders, you feel for Pelagia as she goes through love, confusion and heartache, you gain a perspective on the Iannis's philosophical thoughts and ideas. I found myself really caring for almost all the characters in the story by the end of the novel (and I won't mention which character that I was disappointed about at the end—you get to read that for yourself, lol =D). Antonio for example was quite amusing as a lot of characters to describe him as quite mad but he's charming and endearing and you just gotta love him for that. And Iannis was just this steady and wise man who clearly had reflected much about life and can always part you with a good word of caution on stuff.
The structure of the novel was interesting and it took me a little while to get used to it. It's predominantly in prose but there are times when it switches to first person and you get a narrative from one of the characters. Sometimes you even get the occasional pamphlet worked in there. It's an intriguing way of presenting the story; after a while you get the hang of it and it really adds to the reading experience.
Overall, I really enjoyed the novel, I'm glad I had a chance to read it. There's so much going on in it with so many different themes and aspects involved. The ending was bittersweet in some sense but I couldn't help but feel happy nonetheless. I definitely recommend this novel to anyone interested in novels that take place during World War Two or Greece or in the mood for a good love story/story with such fascinating and memorable characters =)
Oh yeah, and it can be quite funny, especially at the first third/half of the novel. One word: GOAT!!! LOL
Rating:
Visit Louis de Bernieres's official website || Order the book from the Book Depository



Tags: