So I'm in one of those moments where the next deadline is a little while away so I have a bit of space and what do I do? I watch a movie *thud* I recently filled out an Oscars meme and realised there were a few movies I've been meaning to get around to but haven't; Gosford Park is one of them.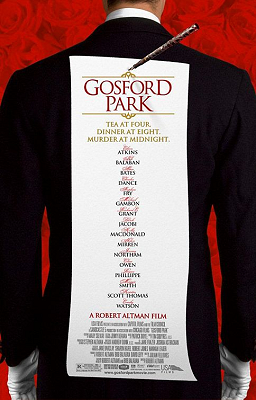 The film is set in 1932 at an English country house. A party of wealthy Britons and Americans accompanied by their servants gather at the home of Sir William McCordle for a shooting weekend. A murder occurs in the middle of the night, the film presenting the murder from both the servants' and the guests' perspective. But rather than a simple mystery to be solved, the film uses the whodunit format to create a drama showcasing the tensions of the British class system. Many intertwining subplots detail the complex relationships among the characters, both above stairs (the wealthy guests) and below (the servants).
Major Spoilers Ahead!
Two things drew me to this film: 1) the setting (England, early 1930s) and 2) the ensemble (such a cast of wonderful British actors!)
I admit, it took me a while to get the flow of the movie, partly because of the interesting method that Altman used to catch the discussions going on at the same time and the number of characters coming in and out, both upstairs and downstairs. It's like a Dickens novel set in the early 1930s with the scope of characters involved!
Getting down to it, it's marvelous how wide a range of characters you have going on and the dynamics going on. Everyone has their own personality, their own gripes, their own interests, from the desperate Merediths to the sleazy Hon. Nesbitt to Mr. Robert Parks, valet to Mr. Stockbridge. There's also quite a bit of interloping going on: Lady Stockbridge is having an affair with Sir William McCordle, who is also carrying it on with Elise, the head housemaid; Hon. Nesbitt apparently had a fling with Isobel McCordle, Sir William & Lady Sylvia's daughter; Bertha hooked up with Mr. Blond twice during the weekend, and so forth. Money plays a major role for some characters as Nesbitt, Lieutenant-Commander Anthony Meredith and Constance, Lady of Trentham are all strapped on cash and relies on Sir William for a fix. Downstairs, there's an animosity between Mrs. Wilson and Mrs. Croft for reasons that are unknown, Mary Maceachran who was recently promoted to head housemaid and strikes up a friendship with Elise and the strangeness of Mr. Denton, who pokes here and there and who clearly doesn't know his place in the system (we find out later the real reason for his poking around so oddly).
On top of all these dynamics and quirks is the overall class system in place. There is a clear divide between those who are "upstairs" and those who are "downstairs". Within the "upstairs" dynamic, there's the issue of money and the decline of prestige for the aristocracy, hence the money issues that are coming into play for some characters. There's also the issue of "marrying downwards"; both Lady Lavinia and Hon. Nesbitt had married beneath them (the former to a commander and the latter to a commoner who happened to have had a rich father). While individuals like Mary find it romantic, it's nonetheless looked down upon by society. "Downstairs", it is clear that the servants know their place and don't try crossing the line so to speak. Some are very loyal to their employers, like Mr. Probert and Ms. Lewis. Others just get by as it is.
Then there's the "outsiders" that are thrown in, a.k.a. the Americans Mr. Weissman and later, Mr. Denton himself. It is clear that both the upstairs and downstairs folk do not know how to deal with them. The upstairs folk often ignore them (just as much as they ignore those who are beneath them). Not that Mr. Weissman and later Mr. Denton are helping matters whatsoever; they simply don't know the system they're in. Mr. Denton complains about it later in the film but clearly the time he spent downstairs didn't educate him in how rigid the system is and how the upstairs group needs it in place. When the downstairs people find out about Mr. Denton, they shun him further, as he was odd to them before and now they completely alienate him for manipulating them into trying to think that he was one of them to begin with.
There's also the inspectors who come in after the crime is committed. The upstairs crowd obviously treat them like outsiders, like when Lady Sylvia directs Inspector Thompson how they were going to proceed. The downstairs crowd seemingly treat Constable Dexter kindly but Inspector Thompson's strange behaviour just adds to his alienation.
I particularly enjoyed two strands in the storyline: the first was the interaction between Mary and Robert Parks. I like both characters, I like Mary's curiosity and sweetness and Roberts was intriguing in his own way (he tends to read a lot when he's off-duty, which is interesting). I figured from the start that there was an attraction between the two of them (kudos to Kelly Macdonald and Clive Owen for their lovely chemistry); although I wished there were more scenes between them, the scenes they did have said a lot. They're just too cute together, what can I say? 😀
I also enjoyed the storyline regarding Mrs. Wilson. You don't see her a lot, just weaving in and out as head of the household maids and female servants. But she's a force, and Helen Mirren did a wonderful job of portraying her. But yeah, you don't see her a lot until the end, when her secret is revealed. Her scenes with Clive Owen were interesting and nicely played. Her story also brought up again a number of issues relating to class and duty. I wish she had more scenes with Eileen Atkins, they were wonderful in the scenes they had together.
It's clear within the first thirty to forty-five minutes that this movie is more about the character dynamics and less about the crime itself. It's also a film that leaves clues as you go along, foreshadowing subtly to events and revelations to come. Speaking of subtlety, the interactions and relationships that are portrayed or developed were performed with a fine subtlety that was interesting. It also made sense given such a large ensemble and there's just so much going on in Gosford Park within a span of four days.
The cast itself was wonderful, they all gave delightful performances. The set and the appearance were really authentic, like you really were watching something that came straight out of the 1930s. The soundtrack also set quite a mood for the movie; there wasn't one theme that ran straight through I found but it was reflective of what was going on, which was pretty interesting.
The only small issue I had was that I wished there was more closure to certain storylines. I felt like we could've known a bit more about certain events and what happened before or what will happen afterwards but given the set up of the entire movie (whereby we more or less observed the events of the last four days), it made sense to wrap up the way it did.
I wish this movie was based from a book, it really was such an interesting story which such a cast of characters! Really enjoyed it.
Rating:
Tags: