Okay, I was supposed to be working on discussion papers for two of my classes yesterday and OMG, I could not focus on writing them. Like I knew roughly what I wanted to write about but I really just couldn't bring myself to write them. In my frustration, I ended up watching The Fall, an indie movie that came out around 2006 (I'm getting 2006 and 2008 so I don't know entirely) starring Lee Pace (don't know how I decided on The Fall in particular…hmm).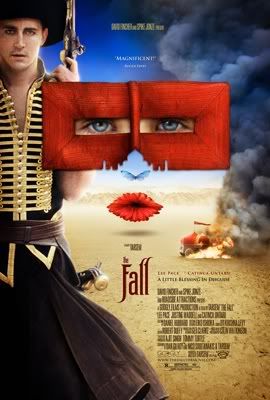 In Los Angeles, circa 1920's, a little immigrant girl finds herself in a hospital recovering from a fall. She strikes up a friendship with a bedridden man who captivates her with a whimsical story that removes her far from the hospital doldrums into the exotic landscapes of her imagination. Making sure he keeps the girl interested in the story he interweaves her family and people she likes from the hospital into his tale.
– source
Major Spoilers Ahead!
Where to begin? For starters, the cinematography was stunning. I read somewhere that this movie was shot in 26 different locations in how many different countries and it showed. The architecture they featured was impressive (you can tell they spent much time in South Asia and Southeast Asia) and the colours and contrasts were just amazing. If it wasn't for all these assignments, I'd be making icons and wallpapers like crazy right now! Some of the sequences were just beautifully shot (i.e. the swimming shot early in the movie) and coupled with the music (which was equally wonderful and distinct; pity there's no soundtrack available anywhere because it is truly amazing), just watching the movie for cinematography alone is wow (for lack of words to express my impression of it, lol).
But what's also amazing is the story itself. Catinca Untaru was wonderful as Alexandria; she really is just a little girl navigating through the hospital and the problems of real people as she recovers from a fall she endured prior. She's sweet and curious and innocent and you really root for her as she tries to pull Roy out from his funk. You just want to hug her 😀
Roy. Roy, Roy, Roy…what can I say? He came off as charming and imaginative (at least the way he plays off from Alexandria's imagination) but underneath it all he really is a broken man. It starts seeping through over the course of the movie as he asks Alexandria to give him medicine from the medicine cabinet and so forth, the expression he makes when he comes across something that could speed up the process of his demise. When his suicide attempts failed and he just goes beserk, that's when you really see how desperate and how broken he really is, I think (not to mention the way he baited Alexandria to give him the morphine by exchanging the deed for the story that he's been telling over the course of the movie). But despite of all that, there is a part of him that genuinely cares for the little girl that he's been hanging out with, like when he told her to go away when he falls asleep and not come back; you know here that there is a chance that he could turn away from the disaster he's speeding his way into. You also realise that he's deeply emotional, the way that this heart break was affecting his perspective on everything. I've never watched Pushing Daisies, or much of his other work really, but Lee Pace was phenomenal: he was charming, he was funny, he was distraught, he was broken.
Going back to the connection between Roy and Alexandria, I thought it was wonderful. I love the bit of communication barrier, both in terms of age (Roy explaining to Alexandria what the Eucharist) and cultures (language barrier when Roy was saying he was sorry that their house burnt down and Alexandria didn't quite understand). Despite of all the crap that Roy was feeling (and the manipulative stuff he did), he was still kind to Alexandria and accommodated her and her interest in him finishing the story. I loved some of their banter early in the movie:
Alexandria: Make them kiss.
Roy Walker: No, I don't want to make them kiss.
I freaked out alongside Alexandria when she thought that Roy had died after he doused all that medication. By the time you got to that scene after the second fall and the surgery, you can see that a connection has been firmly established between the two. Roy wants to let go, give up but Alexandria tells him not to, that she does care for him, that essentially there are things in life still worth living for. And at the end when they're both crying and Roy spares the final bandit from the story from dying and allowing the character to stand up and fight again…it's such a lovely scene.
A final note on the cast, it was great to see Justine Waddell (who was amazing as Molly Gibson in the BBC adaptation of Wives and Daughters) and Leo Bill (who played Robert Ferrars in the 2008 BBC adaptation of Sense and Sensibility) in this movie too!
Overall, it's a great movie: great cinematography, breathtaking landscapes, great acting. It had me laughing at times (like when Roy said that the blue bandit would destroy everything Spanish and Alexandria pointed out that he was Spanish and there's this hilarious little expression followed by Roy switching gears and saying that the blue bandit was French) and it had me gasping in surprise or sadness. It has an underlying lesson about life,friendship, moving on from heartbreak, about what's worth living and dying for and so forth. The story's also reminiscent to me of John Connelly's The Book of Lost Things in some way that I can't even explain, of the power of the imagination of story-telling and what it can do and show to people.
I would highly recommend this movie, it's fantastic!
Rating:
Tags: