Today's MUSING MONDAYS post is about a random book.

Go to your bookshelf and pick a random book. No cheating now, just reach out and pick one. Now tell us about it – where did you get it? Why? Was it a gift? Does it hold any special memories? Did someone recommend it to you? etc.
Here's what I pulled out (no, did not cheat, it just happened to be the easiest to grab on my shelf =P):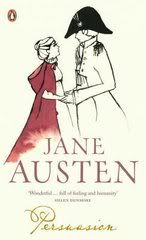 I actually bought this copy back in December, making it the third copy of Austen's Persuasion in my possession. The other two editions were prettier and completed a particular set and I wanted a copy that I can take with me anywhere (which in this case was up here with me in Ottawa) so I bought this edition (cover's very pretty too; simple but elegant). This particular copy doesn't have any particular memories associated with it save for the fact that I brought it with me to the Three Days Grace concert I attended that same day with my best friend (awesomeness).
But this story's very special to me because it's my favourite Austen novel. I first read the story a few years ago and I'm glad I read it before watching the adaptations because it was the only Austen novel that I really could not put down; I was excited to find out whether Anne would end up with Captain Wentworth, whether William Eliot would succeed in his schemes and so forth. And the letter at the end gets me every time…I absolutely love it. It's the only Austen novel I would own a bajillion different editions of, lol.