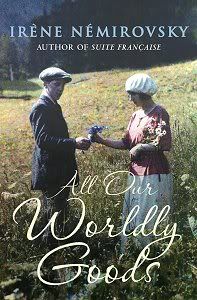 All Our Worldly Goods
By: Irène Némirovsky
Pierre and Agnes marry for love against the wishes of his parents and the family patriarch, the tyrannical industrialist Julien Hardelot, provoking a family feud which cascades down the generations. This is Balzac or The Forsyte Saga on a smaller, more intimate scale, the bourgeoisie observed close-up, with Némirovsky's characteristically sly humour and clear-eyed compassion. Full of drama and heartbreak, and telling observations of the devastating effects of two wars on a small town and an industrial family, Némirovsky is at the height of her powers.
Okay, firstly I've been very busy this semester with schoolwork and course readings and research and all the rest but despite of this, I've managed to read quite a bit (my solace from all my work). One of the books I've read quite recently was All Our Worldly Goods. It's my first book by Irene Némirovsky, whom I heard wonderful things about through her unfinished work, Suite Francaise. I'll try to keep this review as spoiler-less as I can 😉
What initially drew me to this novel was the premise of lovers amidst a family feud and their love crossing class lines. It sounds like a typical storyline, but family and dynastic dramas have always intrigued me and this novel certainly delivered. All of the characters represented some part of society and you get a glimpse into the thoughts and motivations of each of these characters, however brief the glimpse may be. What's prevalent is the class lines: you have the bourgeoisie Hardelots and the lesser-off Florents and their different backgrounds. At first I thought the Hardelots (I'm talking about Pierre's parents and not the entire extended family) were your typical upper-class, well-off people but getting a glimpse of their innermost thoughts and concerns and a perspective into their actions and they, in the end, quite surprised me.
By the end of the novel, I realised that this novel was essentially about Pierre and Agnes and their love for each other. The family drama and dynamics is certainly a generational element in the novel (spanning three/four generations depending on how you include Pierre's grandfather: Pierre's grandfather, Pierre and Agnes's parents, Pierre and Agnes and then Pierre and Agnes's children) but I was surprised that amidst this, Pierre and Agnes's story remained front and centre throughout. This is not a bad thing, of course, as it is their love for each other that set off the dynamics and interactions to begin with. Their story is a wonderful and tender one that speaks of true and steadfast love that stands the test of time and hardship. I only wish that we had more moments or recollections of how they came to fall in love with each other (as well as further details about that fateful afternoon at Coudre Woods).
The pace was a bit quicker than I thought, which means that you don't get as round a characterisation as you could but this doesn't mean that the characterisations were incomplete in any sense. You find yourself caring for Pierre and Agnes anyways and you come to develop certain…strong feelings (for lack of a better adjective, lol)…towards Simone and Julien Hardelot. The pacing also adds to the mood of the piece (not to mention it gives a sense of what's going on at the time when Nemirovsky wrote the story). The prose also really added to the atmosphere of the novel, of the time that this story is taking place.
All in all, it was a wonderful read; you really get a sense of French life and sentiments during this time. I definitely recommend this to anyone who wants to read a period piece or in the mood for a good story. Also, I think this book would make a fantastic movie 😀
Rating:
Visit a site dedicated to Irene Nemirovsky || Order this book from the Book Depository



Tags: