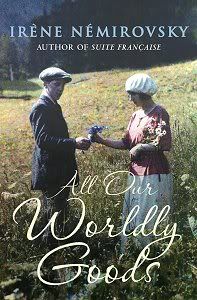 All Our Worldly Goods
By: Irène Némirovsky
Pierre and Agnes marry for love against the wishes of his parents and the family patriarch, the tyrannical industrialist Julien Hardelot, provoking a family feud which cascades down the generations. This is Balzac or The Forsyte Saga on a smaller, more intimate scale, the bourgeoisie observed close-up, with Némirovsky's characteristically sly humour and clear-eyed compassion. Full of drama and heartbreak, and telling observations of the devastating effects of two wars on a small town and an industrial family, Némirovsky is at the height of her powers.
Okay, firstly I've been very busy this semester with schoolwork and course readings and research and all the rest but despite of this, I've managed to read quite a bit (my solace from all my work). One of the books I've read quite recently was All Our Worldly Goods. It's my first book by Irene Némirovsky, whom I heard wonderful things about through her unfinished work, Suite Francaise. I'll try to keep this review as spoiler-less as I can 😉