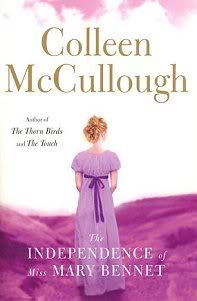 The Independence of Miss Mary Bennet
By: Colleen McCullough
Lizzy Bennet married Mr Darcy, Jane Bennet married Mr Bingley – but what became of the middle daughter, Mary? Discover what came next in the lives and loves of Jane Austen's much loved Bennet family in this Pride and Prejudice spin-off from an international bestselling author Readers of Pride and Prejudice will remember that there were five Bennet sisters. Now, twenty years on, Jane has a happy marriage and large family; Lizzy and Mr Darcy now have a formidable social reputation; Lydia has a reputation of quite another kind; Kitty is much in demand in London's parlours and ballrooms; but what of Mary? Mary is quietly celebrating her independence, having nursed her ailing mother for many years. She decides to write a book to bring the plight of the poor to everyone's attention. But with more resolve than experience, as she sets out to travel around the country, it's not only her family who are concerned about her. Marriage may be far from her mind, but what if she were to meet the one man whose own fiery articles infuriate the politicians and industrialists? And if when she starts to ask similar questions, she unwittingly places herself in great danger?
I picked this book up on a whim the same day I bought Niffenegger's The Time Traveller's Wife. I thought it was an interesting premise that the book would focus on Mary, given what little she involved she was in Pride and Prejudice (in comparison to her other sisters); not to mention after Lizzie and Jane, I had a soft spot for Mary precisely because she was rather marginalised from the rest of the family. The blurb above also intrigued me so I figured why not? Having finished reading it…uh, yeaaaahhh…
Where to begin? For starters, the novel itself was a bit different from what the back of the book said (I believe that's the second time I've been fooled by book blurbs—guess that's what I get to buying books on the whim xD). I was surprised that a good amount of focus also went to the other Bennet sisters; I thought the story would predominantly follow Mary with her other sisters in the background—not that I mind, but I just didn't expect that, tis all xD
It started off very promising but after chapter two, I became rather uncomfortable at the characterization of most the characters in the novel (the ones we knew from P&P). I understood that this was McCullough's interpretation of the P&P cast of characters twenty years after the events of P&P and figured, you know, time passes, people change and evolve and that it will work within the framework of the novel. But pretty much all the characters save of Lydia (whose circumstances and behaviour as a character in this novel was a possibility given what a flirt she was in P&P) and to a lesser extent Jane (who was still sweet-natured and even-tempered) were radically different to the point that I couldn't possibly see their former selves being those characters from P&P. This is especially the case with Mr. Darcy (even certain actions that Mr. Bingley did surprised me greatly); I tried to understand how it was that he remained so cold and hostile after he married Lizzie but I couldn't, not with knowing what he did for Lizzie and her family in P&P and the kind and fair person he was revealed to be. And to go about concocting schemes to keep his relatives in line with Ned! It just seemed shady and just untrue to the core of his character.
While it was interesting that Mary had a must stronger and formidable characterization in this novel, there was something about her that, well, didn't seem like the Mary Bennet we knew in P&P that you can trace and say "Yeah, this was her development". While I understand that she became as such after living as a single woman caring for her old mother for so long and but fulfilling herself any further, there's just something about her representation that seems off. And towards the end when she said that she supposed she had a bit of Kitty in her…I couldn't quite believe that.
Beyond the not-quite-so-believable characterizations, I just couldn't get into the story. I think part of it was because of the strange characterizations. But beyond that, the only scenes that interested me was Lizzie and Darcy's and their domestic issues, which was kind of sad considering that the title of the novel was about Mary. To be honest, Mary's story started getting ridiculous when she was diverted on the road to Manchester, got plopped somewhere on the road to Mansfield and then got robbed and then taken captive but a breakaway Christian sect. I was utterly bored but kept to it in hopes that it would pique my attention in the end. 🙁
There were some interesting moments in the novel, such as the envisioning of the Bennet sisters' lives years after P&P. It was also interesting that she brought more of the world they lived in into the story: the issue of poverty in the country, the state of the empire, the politics of the time. And to some extent some of the characterizations of the cast of characters were plausible. McCullough's prose is also good, not clunky or tedious. But overall, I was rather disappointed in the story. I expected something more that would captivate my attention. This is the first book I've ever read by Colleen McCullough but my reaction to this novel won't deter me from reading some of her other works (I have The Thorn Birds next on my list); I was just left rather befuddled and disappointed by this novel.
Rating:
Reading Colleen McCullough's biography on Wikipedia || Order this book from the Book Depository



Tags: