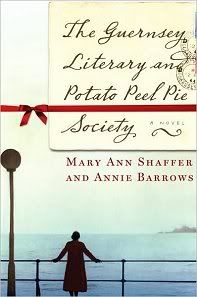 The Guernsey Literary and Potato Peel Pie Society
By: Mary Ann Shaffer and Annie Barrows
January 1946: writer Juliet Ashton receives a letter from a stranger, a founding member of the Guernsey Literary and Potato Peel Pie Society. And so begins a remarkable tale of the island of Guernsey during the German occupation, and of a society as extraordinary as its name.
I first came across this book back in June while I was browsing the books at Costco. It was an unusual title but the book blurb and the first page didn't catch my attention enough to pick it up then. Since then, reviews have come to my attention, from over at GoodReads and even over at Livejournal, at how wonderful the novel was. So a couple of days ago while I was at the bookstore, I saw that the book was on sale and decided to pick it up. I'm so glad I did 🙂
What can I say about this novel? The set up of the novel is interesting and very fitting: the story is told in correspondence (which is pretty cool because I love writing letters myself). It's takes a bit of getting used to, if only because the reader is thrown into the middle of a couple of already-established friendships. But the authors do a really wonderful job in bringing these characters to life through such correspondence that you get a good sense of who they are and what sort of personalities and quirks they have. By the end of the novel, you really do feel as though these characters were your own friends.
What else can I say about this novel? It went at a very good pace and it kept me engaged throughout. I wasn't sure where the plot was going to go when I initially started and Juliet started corresponding with the members of the Guernsey Literary and Potato Peel Pie Society but it was a pleasant read and it was really about the characters all along. Overall, I thoroughly enjoyed this novel and definitely recommend it to everyone—it was an absolute delight 🙂
Rating:
Visit the book's official website || Order the book from the Book Depository



Tags: