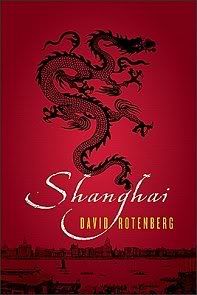 Shanghai
By: David Rotenberg
I've seen this book floating around Costco and the bookstore after it came out in mass market paperbound back in June. After staring at it for some time, I finally got a hold of the copy. Here's the synopsis of the novel (as I'm too lazy to summarize it on my own—it's a hefty story anyways):
With his last breath, China's First Emperor, Q'in She Huang, entrusts his followers with a sacred task. Scenes intricately carved into a narwhal tusk show the future of a city "at the Bend in the River," and The Emperor's chosen three- his favourite concubine, head Confucian, and personal bodyguard – must bring these prophecies to life by passing their traditions on for generations. Centuries later, the descendents of the Emperor's chosen confidantes observe as Shanghai is invaded by opium traders and missionaries from Europe, America, and the Middle East. Of them all, two families- locked in a rivalry that will last for generations- will be central to the evolution of the city. As history marches on, locals and foreign interlopers clash and intertwine; their combined fates shaping what will become the centrepiece of the new China- Shanghai.
The premise was certainly interesting and caught my attention. I don't think I've read a lot of novels set in China so it was an interesting shift. Rotenberg's scope is pretty wide; at 1100+ pages, he covers a good chunk of history throughout his novel, which I had to commend to him for.
I was, however, left with mixed feelings about the novel. While I was impressed by the scope, I feel that it was also the scope I think that made it rather hard to follow for me (which is strange considering that I've read massive novels like LOTR and War and Peace in the past). Aside from characters coming in and out of the story constantly, I felt that the cast of characters central to the story were lacking a certain level of depth that, as a result, you never really get a chance to know them very well. Because of this lack of connection, I never really got into the novel and the course of the events. There were moments that were fairly interesting, especially around the middle of the novel, but certain parts dragged on considerably. Although I understand why the scope was necessary in order to convey the full sense of the story, I think the novel could have been far more effective had certain events been condensed.
Overall, it was an okay read. If you're into a long read and are into reading stories taking place in (predominantly) 19th century, you may want to check this novel out.
Rating:
Check out David Rotenberg's official website || Order the book from the Book Depository



Tags: