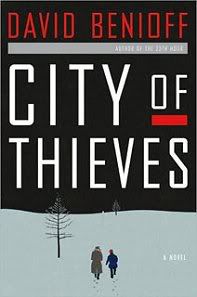 City of Thieves
By: David Benioff
I found out about this novel back in January when it was first released on paperback. The cover was interesting and when I read the synopsis, I knew I had to read it: the novel follows Lev Beniov, a resident of Leningrad during WW2 who was caught by the Red Army for looting. He and a fellow prisoner, Kolya—the handsome and confidant soldier charged for desertion—are sentenced to find a dozen chicken eggs for the colonel's daughter's wedding cake. So they set off across the war-torn Russian countryside in search for a dozen eggs, encountering resistance fighters, victims of war and German soldiers along the way.
I really enjoyed this book, Benioff's prose really drew me in from the first sentence. It really works for the story, the idea of finding a dozen chicken eggs in the face of mayhem that comes from war. It's an interesting contrast that you see all throughout the book; one minute you're laughing as you read the banter between Lev and Kolya and the next minute you're horrified as a Russian girl explains their situation as prostitutes for German soldiers and what they do to girls should they try to run away (quite possibly the most brutal moment of the entire novel; I had to stop reading and do other things because I was just so horrified). There are also moments that were quite touching, very human amidst the bleak and dangerous landscape. Benioff pulls it off quite seamlessly and wonderfully.
My favourite part of the novel had to be the interaction between Lev and Kolya. The reader pretty much follow Lev's thoughts throughout the novel, you get a sense of his frustrations and his hopes; we see Russia in the face of the Nazi invasion. You also get to know Kolya through Lev and how he sees Kolya. And their banter is hilarious; I found myself laughing along even though I know they were in the thick of danger at that point. Benioff does an amazing job in really fleshing out these characters; by the end of the novel, I really felt like these guys were my friends and was sad to part from them.
So overall, I thought this novel was a great read and I would definitely recommend it 🙂
Rating:
Visit David Benioff's profile from Wikipedia || Order this book from the Book Depository



Tags: