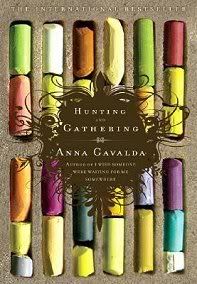 Hunting and Gathering
By: Anna Gavalda
The book caught my attention because I had watched the movie Ensemble C'est Tout starring Audrey Tautou and Guillaume Canet. I liked the movie so I decided to check out the book. Firstly, I dunno where "Hunting and Gathering" came from "Ensemble C'est Tout"; it baffles me but I have given up wondering since, lol.
So this novel doesn't follow a typical plot or anything; rather, the reader follows the daily lives of four different individuals as they struggle through life, struggle against themselves and finding their own happiness. It's very much character-driven; you have the hot-headed Franck, the mysterious Camille, the shy Philibert and the independent Paulette. Gavalda does an amazing job at really fleshing out these characters, especially in the case of Franck and Camille; you see both their gifts and their flaws, you catch glimpses of what they're thinking, what they're going through. And it's interesting to see how, through interaction with one another, they start changing, evolving, working towards some form of happiness and conciliation with their less-than-savoury parts of themselves. It's gritty, it can get personal and it really draws you in to the story and these characters' lives.
What's equally enjoyable is the interaction themselves. I love the banter that the characters have; Franck especially has some pretty funny lines, amidst his more vulgar expressions. Philibert is adorable with his aristocratic dialogue mixed in with his more stuttering, shy self. Franck and Camille have some playful banter here and there, conveying the "game" that they play with each other, trying to avoid their feelings. Franck and Philibert's banter is pretty LOL too; Franck can be a bit gruff sometimes but you can see that he cares.
One minor issue I had with the book was that sometimes I found myself a bit lost as to whether we were in Camille or Franck's POV. I think the transition may be more of a translation issue…or maybe I wasn't following the flow correctly. But otherwise the prose that Gavalda uses in this novel works well for the story on the whole.
So overall, I really enjoyed the novel; it was kind of "Aww, it's over?" when I hit the epilogue. I think I might read this book again in its original language (French) for the heck of it but yeah, truly a superb novel. 🙂
Rating:
Read Anna Gavalda's biography at wikipedia || Order this book from the Book Depository



Tags: