I won't be doing a review on Steve Berry's The Venetian Betrayal because quite frankly I don't have much to say about the novel that could be placed in a separate post. It's a good book, though it does have a bit of a slow start. Was very amused that the former central republics of the USSR were the centre of the sub-plot (as you can see, I've developed an eye for giving kudos to any piece of literature that gives reference to Russia in any shape or form; the results of my studies, lol).
And now back to my regular book review updates…which, by the way, I am closing in now. Hurray!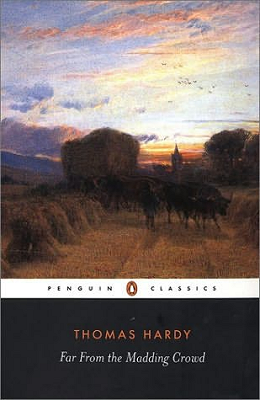 Far From the Madding Crowd
By: Thomas Hardy
I picked this book up on a whim, really; the title caught my attention and figured this would be a good time to get into Hardy. As you might've guessed from the title, this book is set outside of any of the town centres and set in the countryside (and away from the industrial centres). The story itself is about a young lady by the name of Bathsheba Everdene and the three men who loved her: a poor shepherd named Gabriel Oak, a rich farmowner by the name of Mr. William Boldwood and an army sergeant by the name of Frank Troy. A series of misfortunes, crazy instances and rash decisions carry on throughout the novel as Bathsheba struggles with her own decisions and the drive for independence. Many people told me what a wonderful book it was, but I did find it rather slow to get through at first. The back of the book wasn't kidding when it said that it was in an agrarian setting—down to the everyday chores and farmer gossip (and boy do these farmers gossip!). I was glad that the novel picked up pace once the three suitors have been fully introduced and the story was underway. By no means is this an entirely light-hearted novel, there are some very dark moments running through the plot (although there were two moments that had me laughing out loud—perhaps inappropriately). I think I may need to re-visit this book sometime again to pick up the smaller details. Overall, it was a good book to get into Hardy.
Rating:
Learn more about the author from Wikipedia || Order this book from the Book Depository



Tags: