Yeah, it's been a while, hasn't it? Been too busy with school to bother updating (pesky papers left and right, you couldn't really do much of anything else really…wait, scratch that, I did do a bit of reading despite crazy schedule) but now that school is over and done with, I can finally catch up, hurray! Mind you, this is going to be a massive catch up, so this should be fun.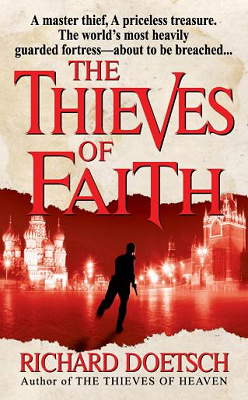 The Thieves of Faith
By: Richard Doetsch
This is actually Doetsch's second novel (his first one being The Thieves of Heaven). What drew me to his novel was the fact that his main character, Michael St. Pierre, isn't your ordinary protagonist that you'd see in Steve Berry's books or Dan Brown's books: Michael is a professional thief. Add the idea that he's about to making a daring heist behind the Kremlin walls after someone relatively close to him is kidnapped and you've got an interesting story on your hands. It's a great premise and Michael is a very intriguing and fairly enigmatic character with a tragedy; he's really a good guy. And he's aided by a cast of fairly interesting characters, like his best friend Paul, who provides a good amount of the entertaining dialogue in this book. Although this novel had an interesting premise, some interesting back and forth exchanges and action sequences and some great characters, there were times that the story suffered from some lagging moments. Not to mention the character Susan Kelley drove me insane to no end; I know Doetsch presented her as a woman who's tough and lawyerly who had experienced tragedy, but I didn't feel any sympathy for her whatsoever for the way she treated Michael and Paul and the decisions and actions she made along the way. Overall, good book to read when you're taking a break from hardcore course material but the plot pacing could've been improved upon. But hey, anything involving Russia in the story gets props from me.
Rating:
Visit Richard Doetsch's official website || Order this book from the Book Depository



Tags: