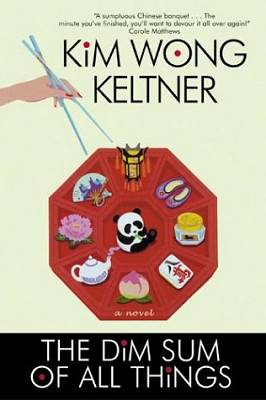 The Dim Sum of All Things
By: Kim Wong Keltner
This book came to my reading list through a recommendation. "Chick lit" apparently is a very controversial term so let's call it a "light read"; as a "light read", it's certainly a unique one. It focuses on a Chinese-American woman who lives with her grandmother in California, who has an o-kay job and who, having grown up in North America, is struggling to reconcile her ethnic Chinese heritage with the manner that she had grown up in. It's something I personally could relate to on certain levels, which is why I was extremely curious to read this book. Ms. Keltner does a superb job in setting the stage and really exploring that tension there, of Lindsey growing up completely immersed in American pop culture but at the same time dealing with the Chinese culture many of her family members and relatives have kept on and how she describes them. The process of her coming to terms with her heritage is quite touching (if not slightly cliched of other "coming-of-age" stories out there). However, the book did hit a couple of slow snags over the course of the story (will not mention particulars as to not spoil the entire premise for readers), like it's missing some element that would've given the plot some sparkle, and what started as a promising story ends up partly flat by the end of the novel. Another thing that slightly irked me was the characterization of Lindsey's best friend, who is a Filipino, in the novel. It seemed rather…well, unauthentic. The father's characterization was on the dot there, but the friend just seemed rather…well, odd in my opinion. I recommend this book regardless for Keltner's representation of an immigrants' child's route towards reconciliation between two cultures that they are dealing with, but in terms storytelling, it works but it could have been stronger.
Rating:
Read Kim Wong Keltner's biogrpahy from RedRoom.com || Order this book from the Book Depository